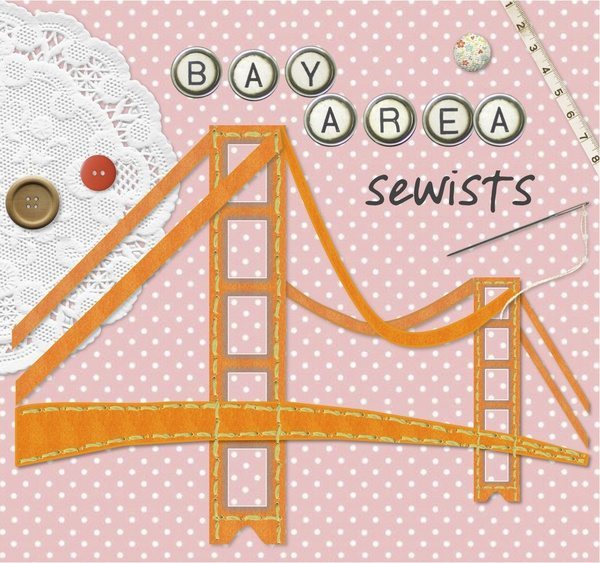 January has been an intense month for me – new job responsibilities due to my promotion, getting old machine repaired, buying a new sewing machine – and (drum roll, please) Big News – I'm the new organizer for the Bay Area Sewists Meetup Group!
Yep, the group was about to be abandoned because the founder of the group, Meghan (who blogs at Meg Made This), didn't have time to maintain it any longer.  So I decided to step up and be the next organizer. Meghan designed the lovely logo for the group – don't you love it?
In between work stuff (and not sewing, blogging or anything else) I was running around trying to find a free and available space for the group to meet. I finally ended up applying to use the Community Meeting Room at the Berkeley Public Library. And I just heard that my application was accepted.
So our first big Meetup "Pattern Swap, Spring Wardrobes & Pattern Giveaway!" will be at the Berkeley Public Library (2090 Kittredge at Shattuck) on Saturday, February 22, 10:45 am to 12:15 pm. We'll pass out one ticket per pattern you bring, which you can exchange for another pattern. Because this event is open to the general public, this will make it fair to everyone who comes. Any extra patterns left over will be donated to the nonprofit East Bay Depot for Creative Reuse in Oakland.
Also, Christine Haynes has graciously donated one of her Emery Dress patterns for a giveaway drawing at this Meetup! Thank you Christine!
Here's the event sched: Patterns displayed/organized (10:45 to 11 am); Pattern swap (11 am to 11:30 am); Giveaway drawing and discussion of spring wardrobes/fabrics (11:30-12:15).
Kirsty of Tea and Rainbows will be helping me set up for this event before she takes off for Australia. Thank you Kirsty! I'm really looking forward to meeting other Bay Area Sewists. To RSVP for the event, just go to the Bay Area Sewists Meetup page. I hope to see you there!