Hi, I hope you're having a fun October! This week I had a delightfully tough time choosing which indie patterns I wanted as part of my Everyday Casual Sewalong Contest prizes.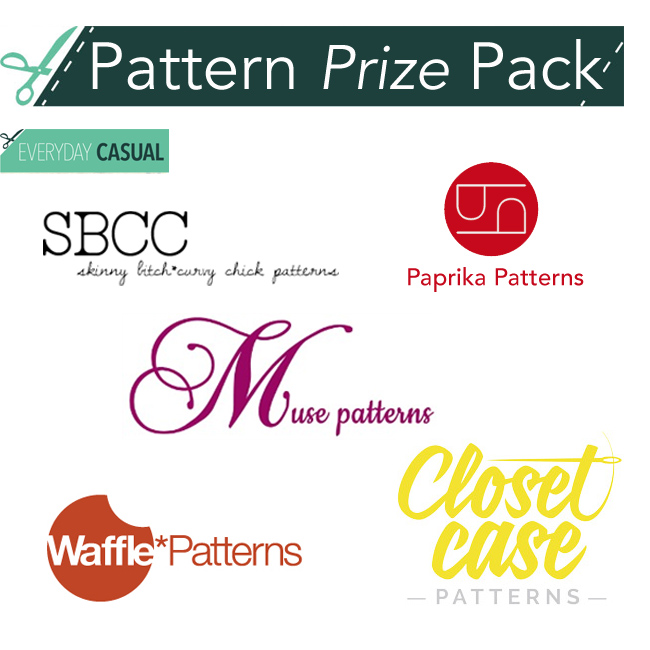 Skinny Bitch Curvy Chick which specializes in petite and petite plus size patterns, officially offered the Mimosa Blouse PDF pattern. However, Betsy, the SBCC's designer told me I could pick whichever PDF pattern I wanted. Thanks, Betsy!
I decided to go for the Manhattan Trousers. I haven't made any pants in ages. What sold me on these pants is that they have a contoured waistband. Yes! I typically have to grade up in the hips and a wide waistband will have "gaposis" if it's not contoured. I'm not petite (5′ 8″ or about 172 cm) but it's easy to lengthen. These pants have optional pockets and belt loops.
Paprika Patterns offered the Jade Skirt, a PDF pattern for knits with an interesting folds in the front (no folds in the back).
The other designers offered a couple of patterns to choose from or any pattern from their collections.
Waffle Patterns
 gave a choice between the 
Perpernoot coat
 … or the 
Monaca shirt
 – a draped wrap top. The coat really isn't my style, plus it doesn't get very cold in California so it wouldn't get much wear, so I opted for the Monaca, which needs to be worn with a cami or tee because it dips a bit low in the front.
I really have no idea how this will look on me. I have a feeling it's more flattering on slim figures but we'll see…
Closet Case Patterns
 offered my choice of a PDF pattern. I already got the Nettie bodysuit as part of the Sewing Indie Month Bundle sale. So I decided to get the
Carolyn Pajama
pattern. I love pajamas! They can be really expensive to buy off the rack. I usually get something at a discount store but I'm never happy with the fabric – usually some cheap synthetic. But now I can make my own. Thank you Closet Case Patterns!
Muse Patterns
are designs with a vintage feel. I chose the Jenna Cardi, a cute cropped cardi, which has nice color blocking opportunities.
And the other part of my prize package included…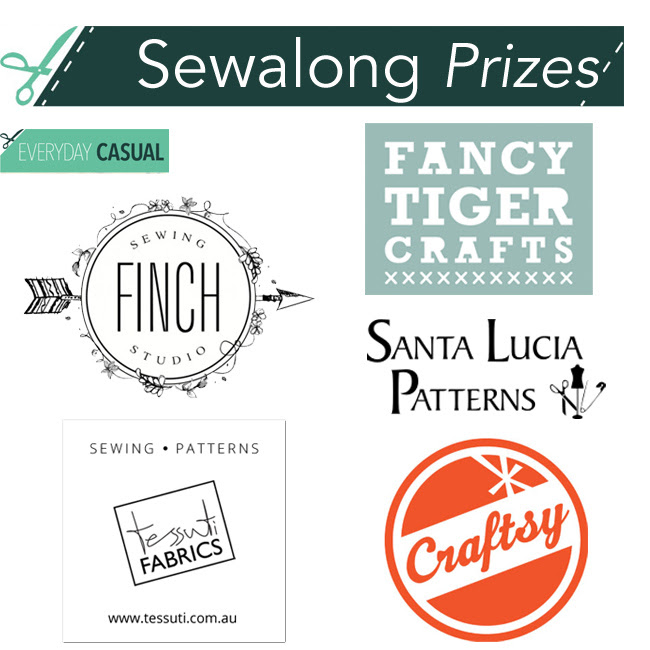 I had fun browsing the
Tessuti patterns
– tops, skirts, dresses, pants, and jackets, oh my! I'd seen many lovely things people have made from Tessuti on Instagram, particularly
the Stitcher & Gatherer
's Sydney Jacket, which you can see on her blog
here
. Plus I remembered Sew Busy Lizzy's
blog post about the Sydney Jacket
. I don't have any Tessuti patterns, primarily because I'd prefer getting a paper pattern but shipping from Australia costs more than the pattern.
What did I pick? Well, I looked at all the patterns on Tessuti's website. I liked the
Eva Dress
but wondered, do I really need another dress pattern? Then I went to
Pattern Review
to skim all the things people made from Tessuti patterns. (You can see them
here
.) The Eva Dress still caught my eye, particularly after I saw the versions by
Blogless Anna
 and
Up So Late
. It's got an interesting shape – and pockets!
So I picked this pattern and then I had one more to pick! I looked at all the jackets and decided that the one that would get the most wear would be the
Tokyo Jacket
. It's got 3/4 sleeves and looks like it will go well with pants and skirts. And it has pockets in the front – always a plus for a jacket.
I can hardly wait to start downloading the PDFs and for my Tessuti patterns to arrive! Thank you to all the participating designers and companies for providing such great prizes!