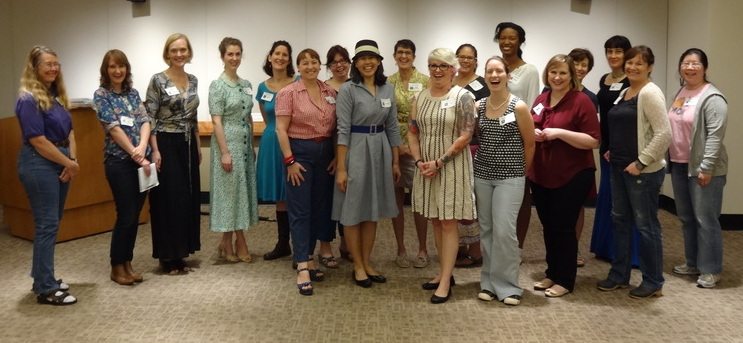 On May 17 Bay Area Sewists had our fourth meetup – a pattern swap – at Berkeley Public Library. Plenty of members brought scores of patterns – many more than I photographed here. But hey, I was took busy looking at patterns so I forgot to take photos at the beginning when the tables were really loaded with patterns. We had something of everything – dresses, suits, pajamas, vintage, kids, and crafts.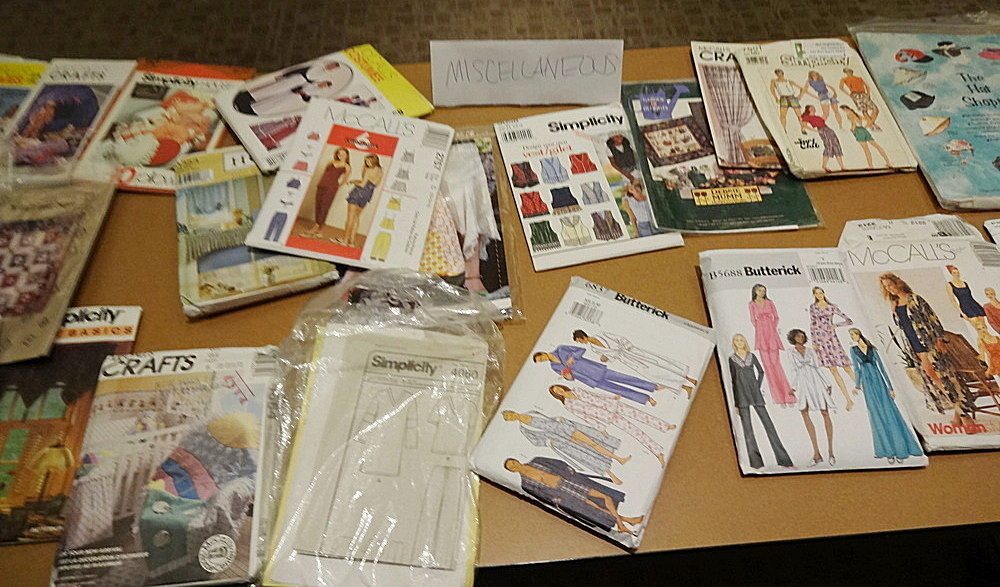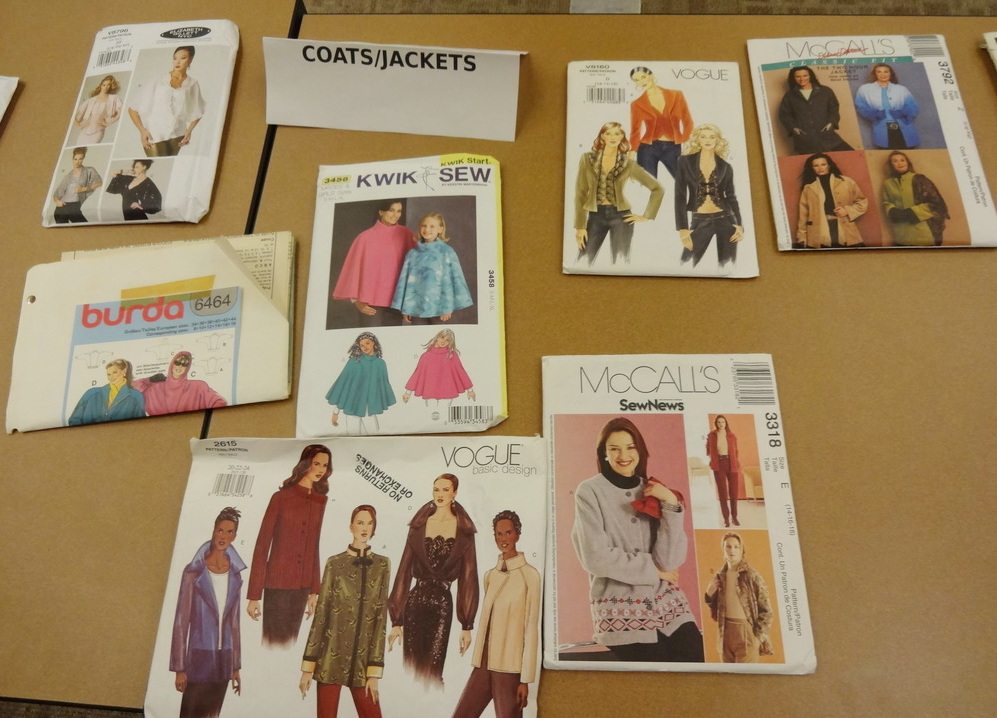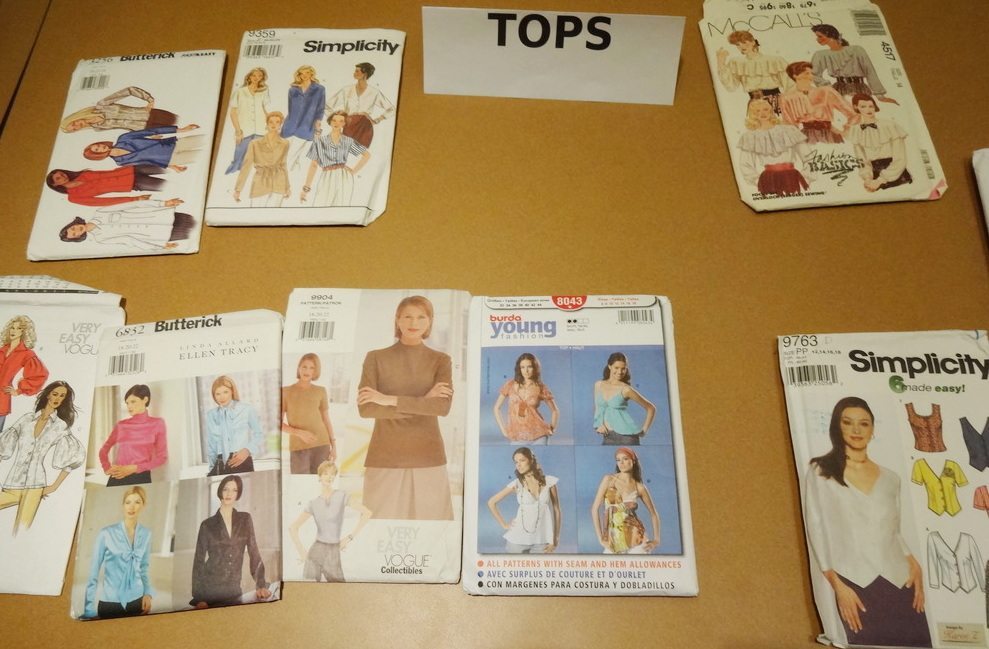 And our May pattern drawing was for Lolita Patterns Olive blouse, which was won by Sarah! Congratulations to Sarah!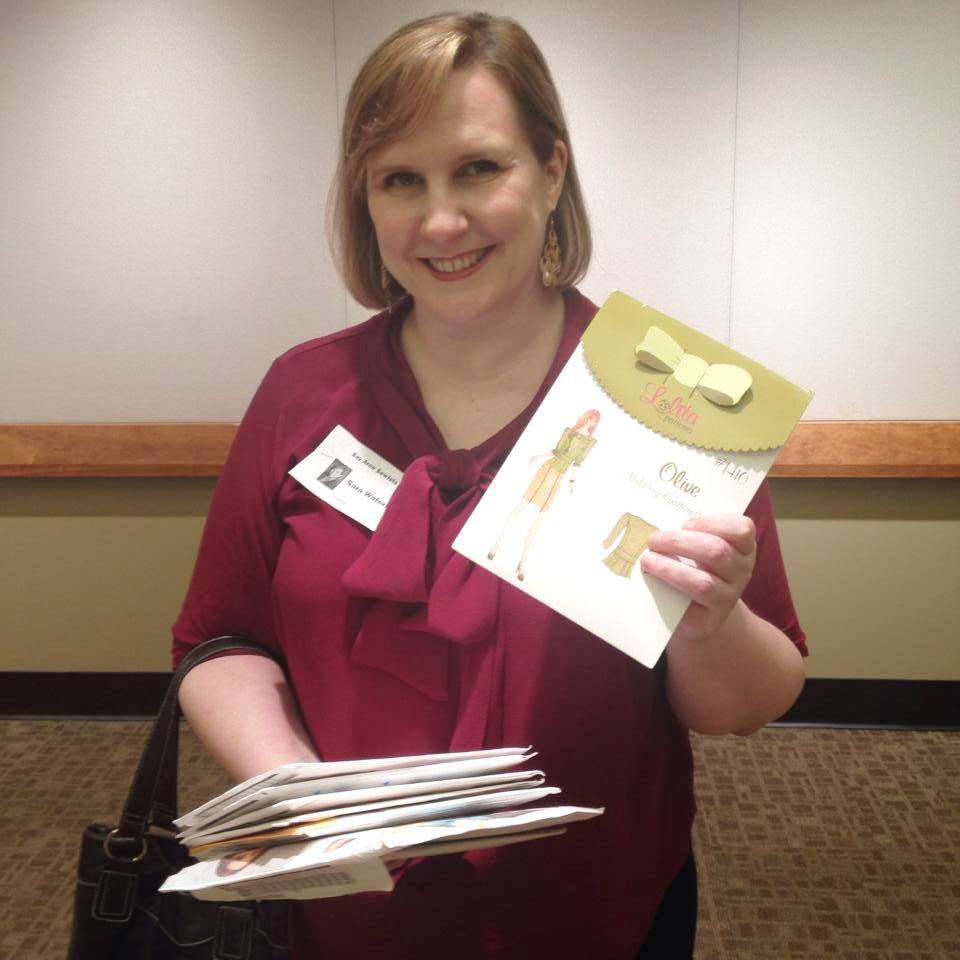 This past weekend we held our first fitting meetup at Lacis in Berkeley.They have a great classroom upstairs with plenty of space for sewing machines and layout measuring. You can see just one part of the space in this group shot. This shot just shows one part of the middle of the room. Unfortunately, we didn't take this photo until later in the day so some folks had already left. But I can assure you we all had a really good time!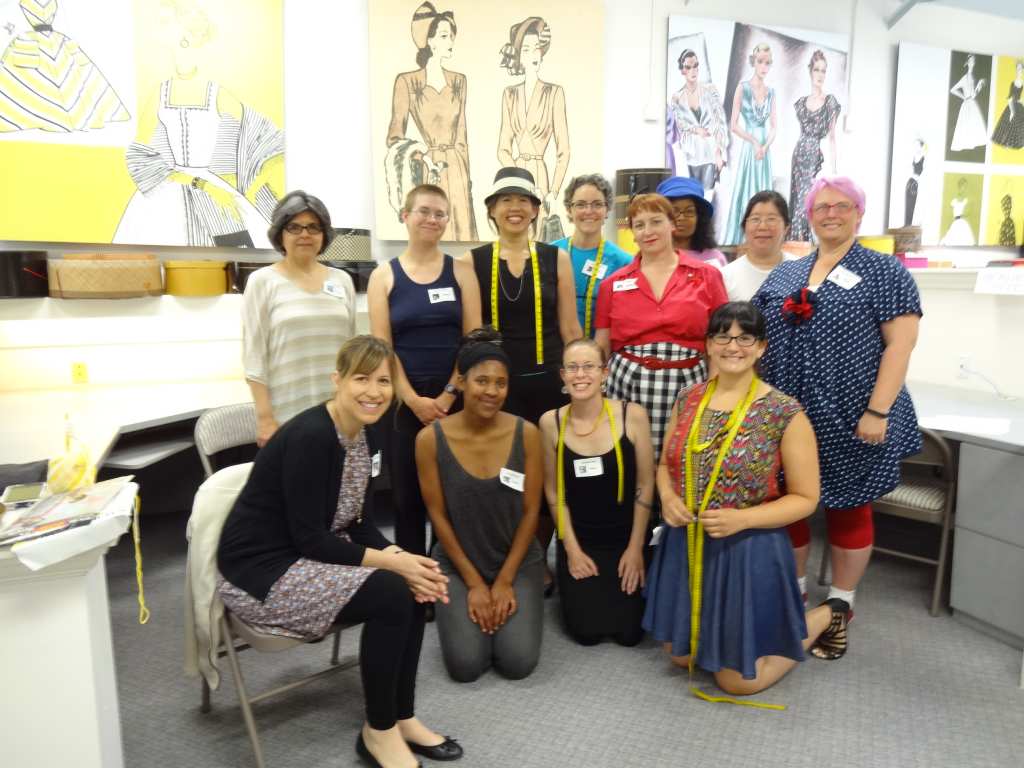 We had a measuring area. I printed out some body measurements worksheet – a very handy PDF that I found on Sewing.org, which you can download it here. It's a two-page sheet and tells you where to measure on various points on your body and has space for you to enter each of those measurements. Folks paired off with one person measuring the other. It was great to get accurate measurements of everything from full back, neck to waist, waist to knee and ankle, and so many other numbers!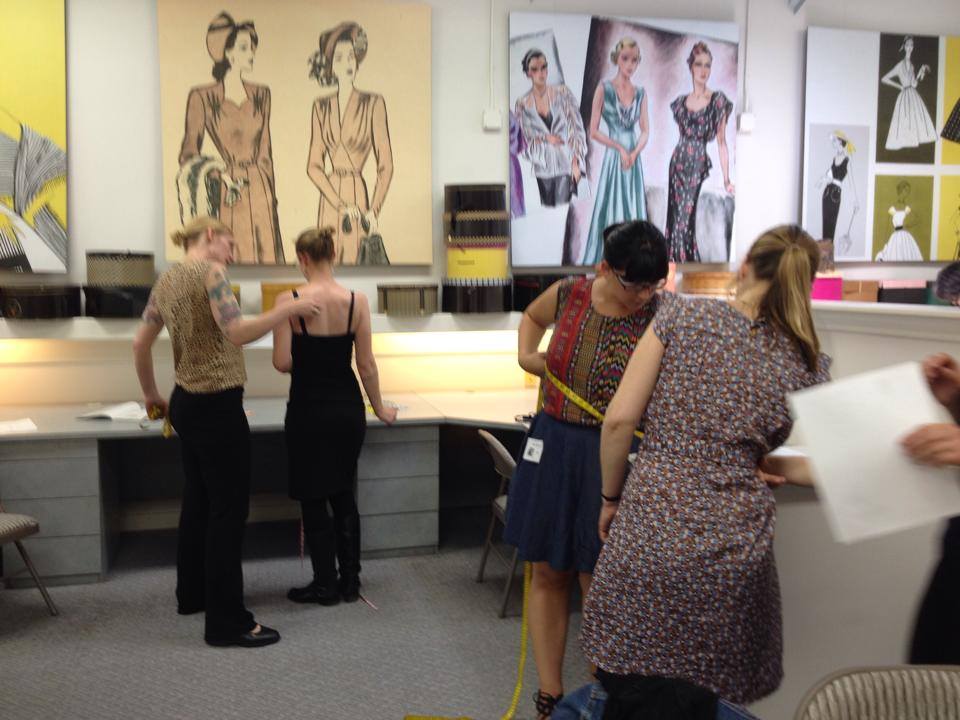 I brought the muslin of the dress I first tried to make for Sewing Indie Month – the Beatrice Dress by Sew Chic Patterns. This vintage-inspired pattern has a great neckline. At this point, I had already done a small bust and a wide shoulder adjustment. BUT the bodice was a little tight right around the fleshy area between my bewb and armpit. (You can read more about that in this post.) I got some advice from members Annamarie and Loran of Loran's World and soon realized that I needed to drop the armhole about a half-inch and then add a little more width to the sleeve. And here's Annamarie…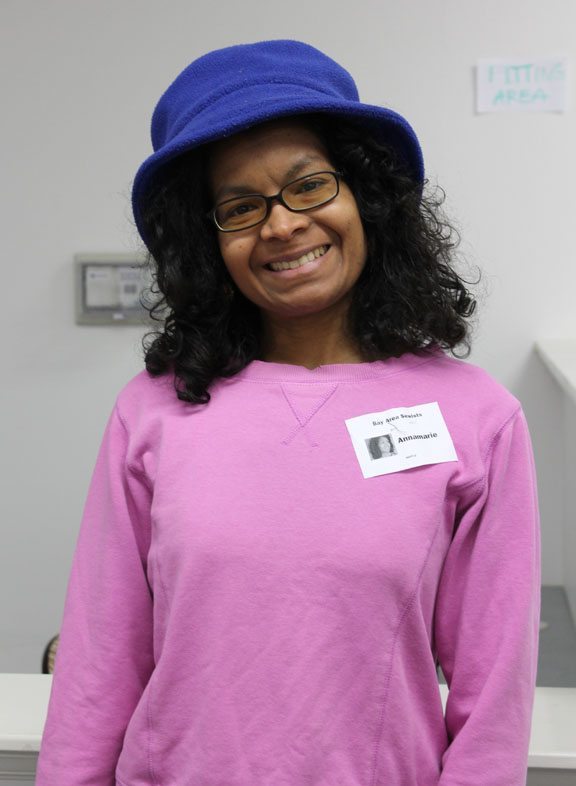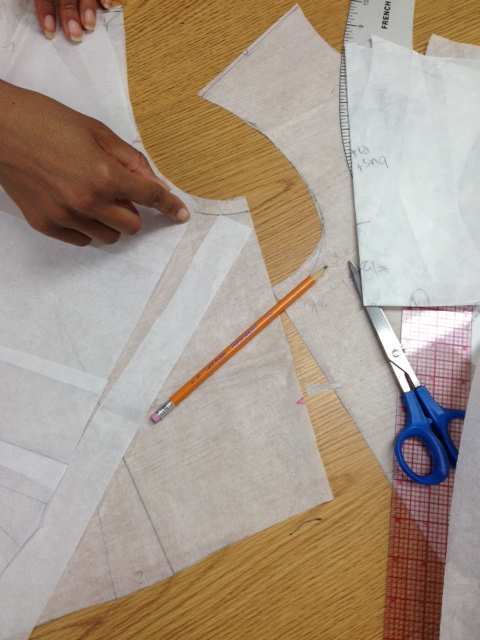 And here's Loran used a couple safety pins on my shoulder seam, which she suggested needed to come in a little more to avoid a potential wrinkle above the bust. Loran is a fitting expert. Many of us were asking her advice. She mentioned that safety pins and quilting pins were really useful for fittings. And she brought a box of quilting pints and many safety pins of all sizes.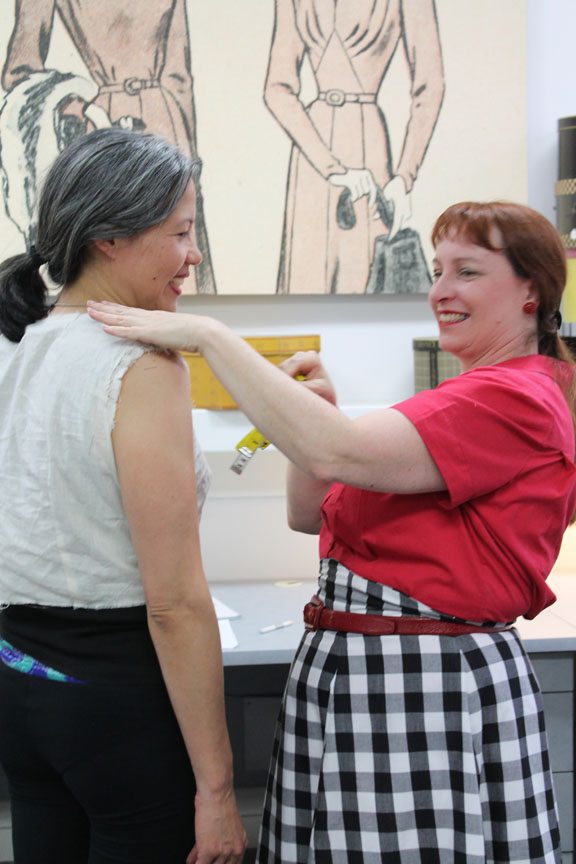 And here's Loran helping Shawn with her dress bodice.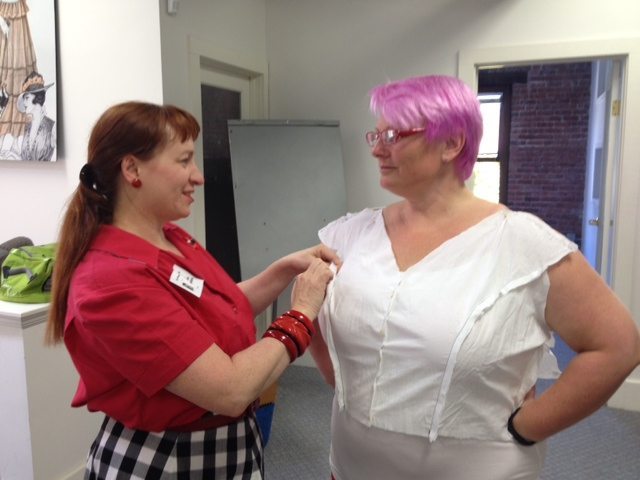 Perhaps it's only fitting (pun intended!) that Loran won the By Hand London Flora Dress pattern drawing! Congratulations to Loran!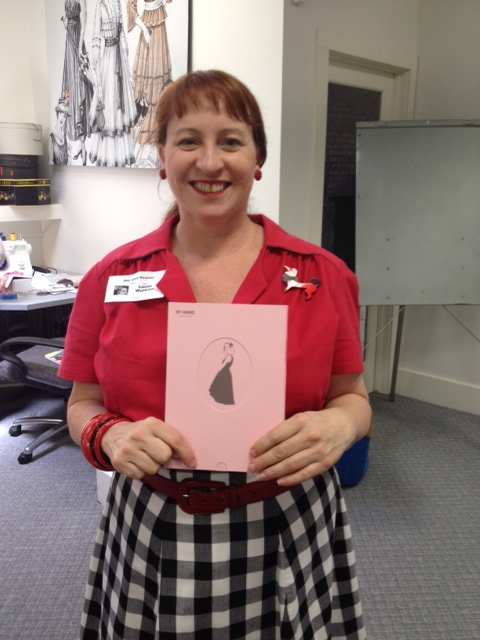 We also had a real treat when Bay Area Sewists member Romy arrived with a HUGE box of vintage patterns that she didn't want anymore. Apparently she had been given boxes of patterns and she didn't want to keep them all. We were all giddy like kids in candy store and just swarmed the box, pulling them out to peruse the many offerings. Thank you Romy!!!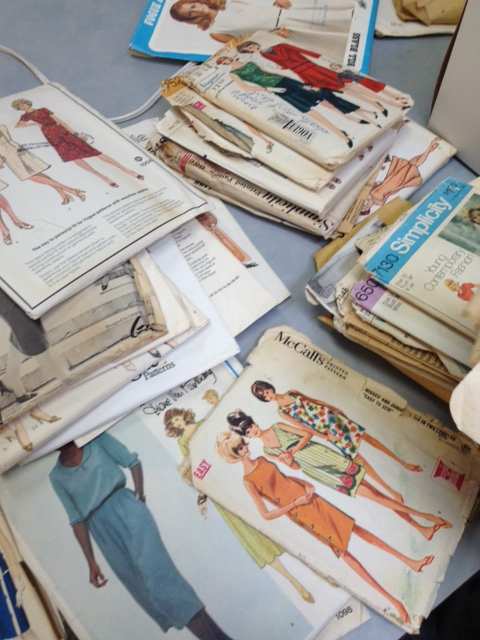 Of course the majority of them were bust size 32 and 34 but I did find a couple that were bust 36 and 37. I couldn't resist bringing home eight of these patterns, including some that would need to be graded up. Here's part of my vintage booty!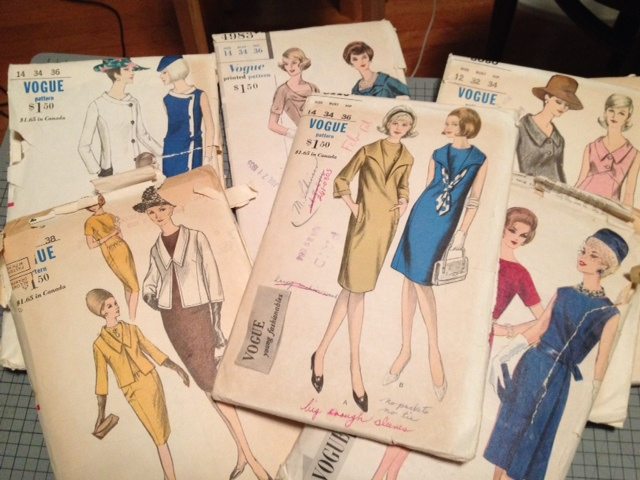 Our next meetup is a fabric swap in Berkeley. If you live in the Bay Area, come and join us! It's fee to join and once you join, you can RSVP for the fabric swap here.
Do you collect vintage patterns? Do you get patterns that match your bust size or do you grade up?