Last week I blogged about the paper trimmer I got for the PDF patterns I recently purchased. I also mentioned that this week I would discuss which patterns I got. So here they are!
For quite some I've been hearing about Named—the Finnish indie pattern company founded by two sisters—and the popular Inari Tee Dress and its other version, the Inari cropped tee. So I finally visited the Named website and just fell in love with the Mimosa Culottes (€13 for PDF, €19 for paper pattern). I love the wide legs! The model below is wearing both of the Named patterns I got, the culottes and the Lexi A-line top (€13 for PDF, €19 for paper pattern, also includes a dress version). I went with the PDF versions because shipping adds another 9 Euros to the cost of a paper pattern.
I don't know if I can pull off the wide-legged look but I like long skirts so maybe it'll work. I'm always a little wary when the model is slender. As added plus is that their patterns are drafted for someone who's 5′ 8″ – just my height (~172 cm).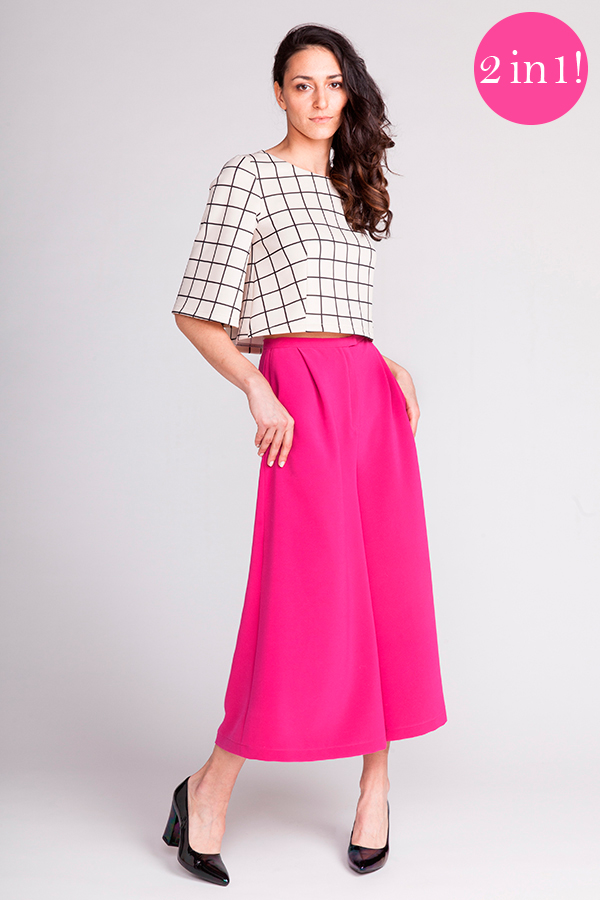 The other two patterns I got are a result of a Bay Area Sewists meetup. I'm the organizer for the group and last month we had the ladies from the UpCraft Club come to our fabric swap meetup to talk about PDF patterns and UpCraft Club. (Thanks to Bay Area Sewists member Ali for connecting us!) They generously offered Bay Area Sewists' members a 25 percent discount off patterns sold on their site. The UpCraft Club only carries PDF patterns that they have "certified," which means they "are the most complete patterns available" (translation: the instructions are detailed and the pattern pieces have all the info you need to sew the project) and they "stand behind them." Plus, the UpCraft Club will refund your money if you are not satisfied. Upcraft Club members pay a monthly fee and get discounts on patterns and at JoAnn Fabrics. But you don't have to be a member to buy the patterns. So go ahead and browse their offerings. Indie patterns such as Sew DIY and Cashmerette sell their patterns on the UpCraft Club site.
I admit, I'm a sucker for discounts and sales. So I browsed the UpCraft Club's offerings to take advantage of the discount. The site has filters to help sort the patterns, but they didn't seem very useful because not many patterns would come up or I'd see children's patterns rather than patterns for adults. When I clicked on "Women," only two patterns came up. But I think they are revising their site so this will likely change. I entered "shirts" in the search function and got several results and decided to get the Biscayne Blouse by Hey June ($10). I need more casual tops and this looks like a good summer sleeveless top. I like the pocket detail, too.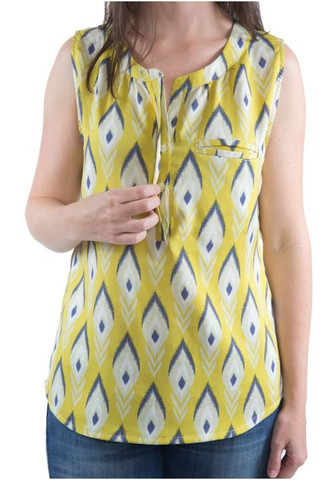 Next I searched dresses and discovered the Kathryn Top & Dress ($12) by Itch to Stitch, which incidentally, has a new pattern out, the Sirena Dress (currently on sale for $9.60). I saw the elegant Sirena dress on Pips's Instagram feed (@magdalenesmuse) here. She was a pattern tester for the dress and blogged about it here.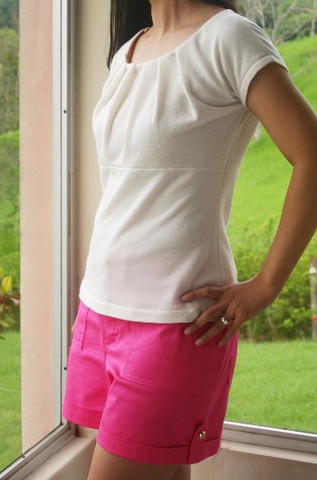 Anyway, I liked the neckline pleats on the Kathryn top. I don't know if I'll make the dress version but I will definitely make the top. I've already cut out my pattern pieces. But before I cut anything, I had my own internal debate – cut or trace the PDF pattern? Cut. Trace. Cut. Trace.
I'm used to tracing Japanese sewing patterns, which you must trace because all the pattern pieces overlap and you can't cut them out. So my first instinct was to trace them, but then I remembered what Ali, a Bay Area Sewists member said at our meetup – that she always cut them because she could always print it again – the beauty of using PDF patterns. So I posted a photo on Instagram, which you can see here, asking people if they traced or cut. I got many responses – some said they always traced, others said they always cut and one person say "it depends." After scrutinizing the pattern measurements, I decided to cut because I didn't think I'd need to make any major adjustments so it would be OK. And if I messed up, I can reprint, right?
I had fun using my rotary cutter (28mm) to cut my knit fabric. The pattern pieces were small enough to fit on my 18 x 24-inch cutting mat (yes, I need a bigger cutting mat). I have a pretty steady hand as long as I'm standing close to the pattern and can see where the blade is going. I cut the pattern without using a straight edge or French curve. Do you use a rotary cutter to cut knit fabric? Do you cut freehand?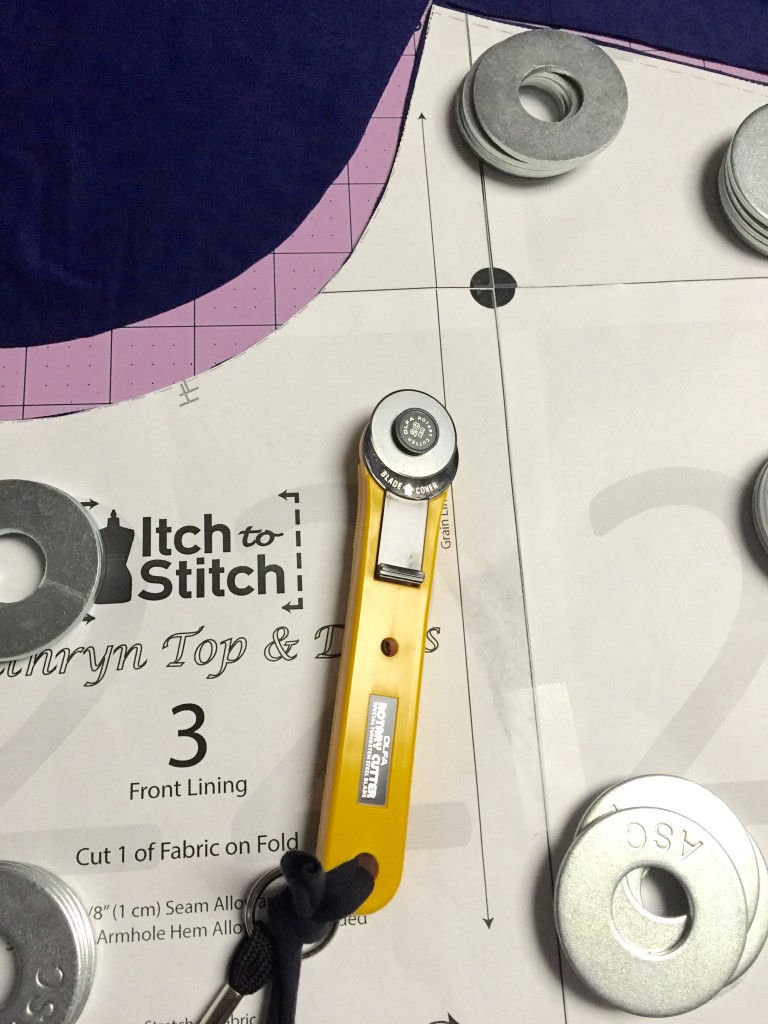 The Hey June and Itch to Stitch patterns were really easy to assemble and they each had layered PDFs, which I really appreciate. When a PDF pattern has a layered version, it means that you can turn off all the sizes you don't need and just print the size(s) that you want. This is really great if you need to grade up or down a size (or two) in certain areas. Each pattern page was numbered with a large number in light gray to make it easy to follow the printing diagrams and assemble the patterns. (You can see the number "22" on pattern piece 3 in the above photo.)
Now I can see the usefulness of the UpCraft Club's certification. You know that the pattern will be easy to assemble and the instructions will be very clear. If you haven't used a PDF pattern, you may want to start with one of the patterns carried by the UpCraft Club.
In contrast, the Named PDFs only have the number of the pattern page in small type on the bottom right, which isn't very useful. There is a diagram of the pattern pages in the instructions but it's easiest to keep the pages in the order they were printed so you can assemble them sequentially. Also, the PDFs for the patterns I bought are not layered. You have to pick the PDF for your size, two sizes per PDF. I printed the one labeled "44_46" for the Mimosa Culottes and the Lexi top and cut a U.S. size 12 (Euro 44). Other Named patterns do have layered PDFs, just not the ones I bought.
Do you have any favorite PDF patterns? What did you make?