Hi, I only blogged once in April so I'm making up for lost time and posting twice this week. The posts I've been working on have required more time to put together because I needed to gather information or images. (For example, see yesterday's post on sewing pattern height.) Today's post is about Alzheimer's clothing, garments that work for people with Alzheimer's – something people don't think about unless they know someone with Alzheimer's. My mom has dementia so I've been looking at sewing patterns that work for an Alzheimer's wardrobe.
My mom can no longer deal with multiple buttons on a garment. Her dementia has affected her ability to handle the process of buttoning a cardigan. This means that any clothing she wears needs to be button-free. Zippers are still OK and she can manage dressing herself with some assistance as long as my dad lays out the garments for her in the order she needs to put them on (underwear, top, pants). If you gave her a pile of clothing, she would get confused and not know what to put on first.
Whenever Mother's Day or her birthday rolls around, I usually don't have time to make anything and then I find myself wandering the petites department at Macy's searching for appropriate Alzheimer's clothing. My mom's birthday is in December so this year, I'm planning way ahead and putting together a list of potential patterns. I also decided to look beyond  patterns just for my mom and just look for patterns that could be useful for other people who may know someone with Alzheimer's.
Besides the lack of buttons, it's important to have simple designs without any extra openings. For example, a top with an opening in the back in addition to the neckhole, such as M7570 would not work – nor would a cold shoulder design like V9260. Too many openings. Look for tops with the three basic openings – one neckhole and two armholes.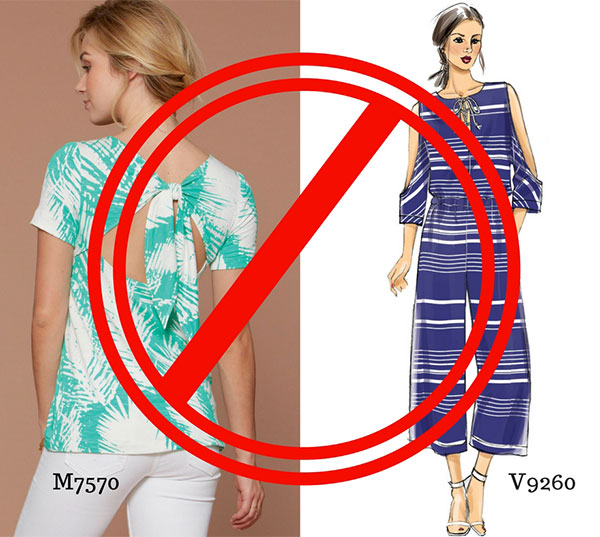 Here are some Alzheimer's clothing possibilities for women.
Tops
The Limoncello Cardigan by SBCC Patterns  doesn't have any buttons. SBCC's website says that the front drape "does not overwhelm a petite torso, and can conceal a fuller chest." My mom is 5 feet (152 cm) tall. SBCC Patterns are designed for petite women, using a base height of 5′ 1″. (Check out my sewing pattern height chart in this blog post.) This is a good pattern for my mom. You can get a hard copy or a PDF of this pattern here.
This See & Sew unlined jacket (B6443) doesn't have any buttons. It's a nice basic jacket. The pattern also includes a draped vest. My mom doesn't really wear vests so I wouldn't make that for her. You don't want to introduce unfamiliar clothing to people with Alzheimer's. It's best to stick to styles and colors that they are used to wearing. (The pants are not part of this pattern.)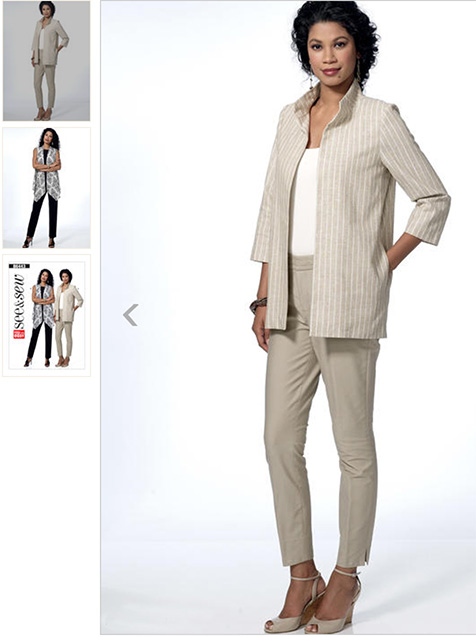 The sleeveless Gimlet Top, also by SBCC Patterns, is designed for knit fabric and looks like a quick sew. Maybe I can make it for Mother's Day. You can get a hard copy or PDF of this pattern here.
The Tonic Tee by SBCC Patterns is a nice basic top. You can buy the hard copy of the pattern here or sign up for SBCC's newsletter and get a free PDF version of the Tonic Tee. If you'd like to add a cute Peter Pan collar to this tee, check out Christine Haynes's Tonic Tee Upgrade, a guest blog post from 2014.
Vogue pattern (V9225) has a good basic design and is flattering for different figures. the different sleeve lengths make this a pattern you can sew for hot or cool weather.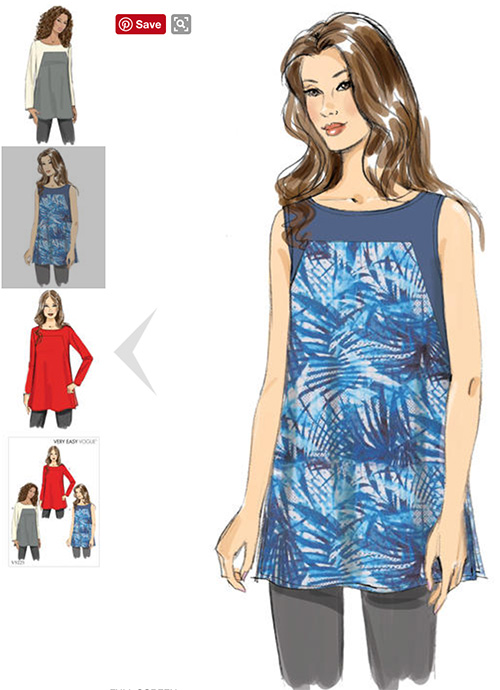 Here's a more fitted Vogue top (V9205), which has some interesting decorative darts. Beth, who blogs at SunnyGal Studios, has sewn it and blogged about it here.
 
This Vogue (V9224) handkerchief-hem tunic would be nice for taller figures.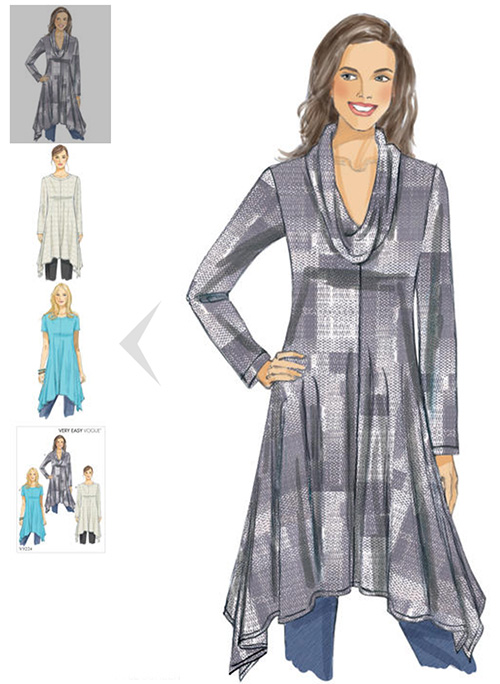 Pants
These Butterick pants (B5893) have an elastic waist. There are also shorts. I recently bought this pattern for myself.
Dresses
The Kitschy Coo Lady Skater Dress is a comfy and flattering dress with three sleeve options (cap, 3/4 and long). The big neck opening is good for people with Alzheimer's. It makes it easy to get dressed (available as a PDF).
Sleepwear
McCall's M6474 is a simple comfortable design – neck and armholes, which are easy for my mom to manage. The pajama bottoms have an elastic waist. Elastic waists are great because they are easy to pull on and take off. It's probably best to avoid the maxi length nightgown or you risk a fall, plus a shorter length makes it easier to manage in the bathroom. At this point, my mother can no longer communicate when she needs to go to the restroom so my dad just takes her to the toilet at regular intervals.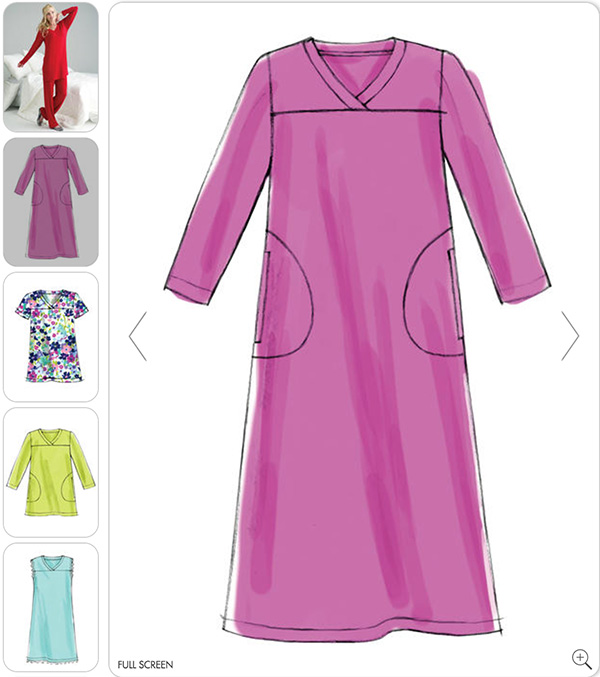 This cute McCall's pajama set (M7060) doesn't have any buttons and comes with an elastic waist – perfect for someone with Alzheimer's.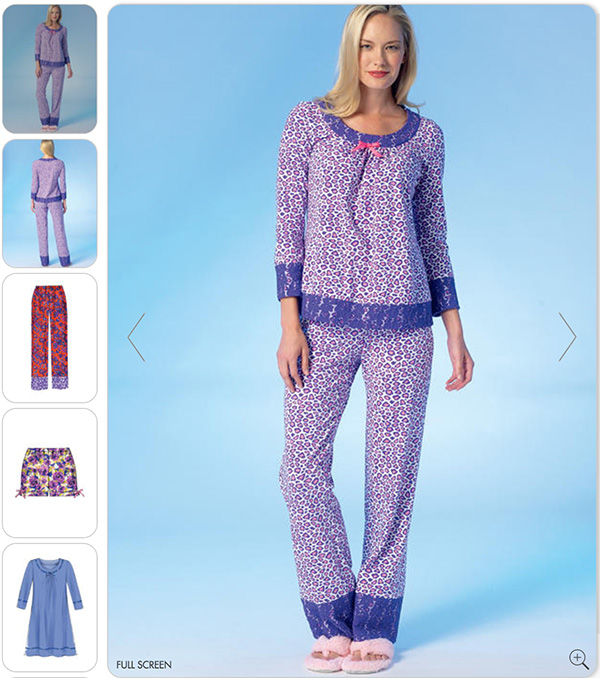 As of this writing, all of these patterns are in print. Should they go out of print, please search eBay and Etsy for a copy. I hope you find this Alzheimer's clothing information helpful. It makes you realize the little things you take for granted, such as getting dressed in the morning. You do it without thinking about it. My dad helps my mom get dressed everyday.
They live on the East Coast and I'm in California so I don't see them as often as I'd like. My mom still recognizes people, which is great. But it can be challenging to make conversation because you can't really ask questions.
My mom taught me and my sisters how to use her sewing machine. She made all our clothes when we were young. Now she can no longer sew. She doesn't have the cognitive ability to remember how to use a sewing machine. I guess things have come full circle and it's my turn to make her clothes.