Hi,
Have you noticed all the Me-Made May posts and tweets? If you don't know, it's a me-made challenge launched by Zoe of So, Zo… What do you know? a few years ago. The challenge is to wear something that you made everyday. I made my pledge via Instagram and never got around to make an official pledge on Zoe's blog. I've participated the past two years as well. For those two years, It was more of a challenge to see if I could even do it.
But now that I have more me-made clothes, it was a great opportunity to see where were the "holes" in my wardrobe. Also, about a week into May, I realized that I had worn a different hat everyday and I decided to add my own personal challenge – wear a different hat everyday in the month of May. Here's my round-up of the first 20 days.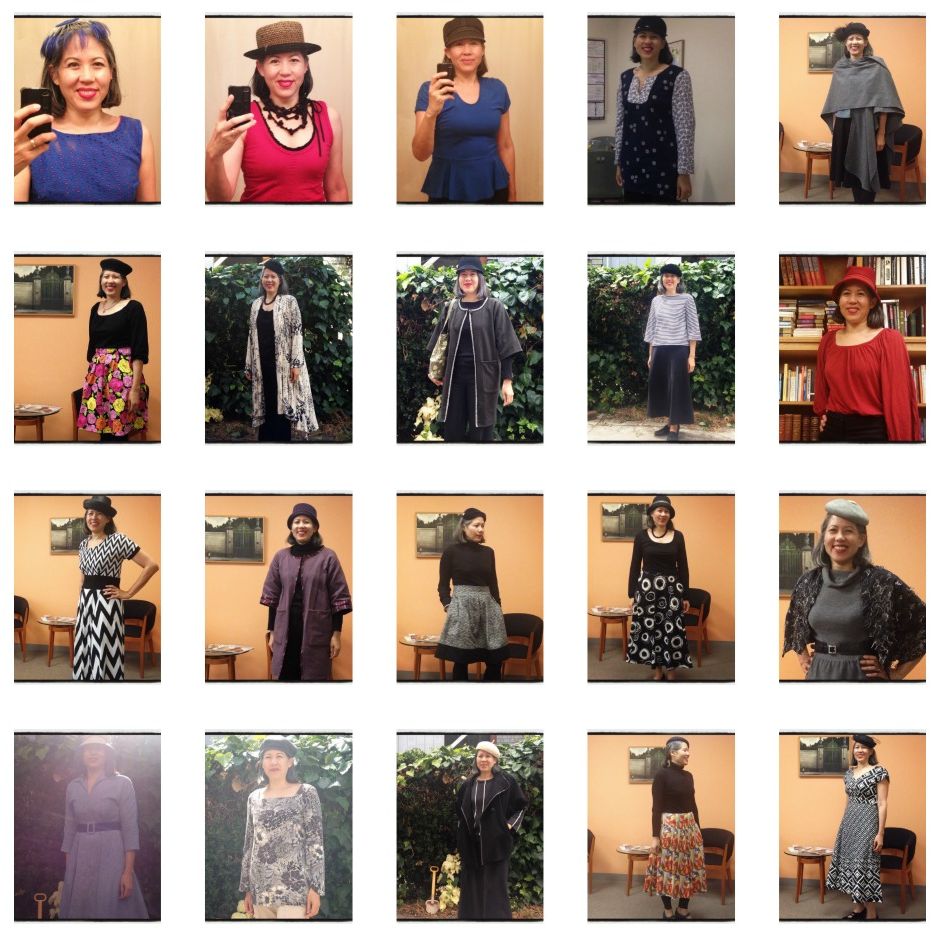 Starting at the top left:
My Spring for Cotton dress from a vintage Simplicity pattern (fabric from Stonemountain & Daughter Fabrics) and fascinator. I got the feathered piece from All Things Vintage in Oakland, and attached it to a headband. I'll be writing a post about attaching that feather piece to a headband next week.
Red and black jersey Alabama Chanin tunic (red fabric from East Bay Depot for Creative Reuse, black from Stonemountain) and necklace and a hat I got in Santa Monica several years ago.
Blue Hummingbird peplum top (fabric from Stonemountain & Daughter Fabrics) and linen hat I got a Loehmann's
Tunic from a French sewing book Sewing Chic (fabric from Britex Fabrics, sleeve fabric from a Bay Area Sewists fabric swap), black wool hat I got for $1 from Urban Outfitters about five years ago
Wool cape from a 1980s Vogue pattern (fabric from Britex), vintage wool hat with ostrich feather pom pom I got more than 20 years ago. It's one of my favorite vintage hats.
(second row) Floral Chardon Skirt (fabric from my mom's stash) and black wool beret from Loehmann's
Jacket from Vogue pattern (fabric from Discount Fabrics), small vintage black wool beret with braid detail
The Trench from Christine Haynes first book Chic & Simple Sewing (fabric from East Bay Depot), black wool hat with buckle detail (it was a chilly week so wool hats were good
Striped top from Japanese sewing book She Wears the Pants (fabric from Discount Fabrics) and skirt from Basic Black (black cotton pique from Stonemountain & Daughter), vintage black beret from All Things Vintage
Knit top from a Big Four pattern (imported Italian knit remnant from Britex Fabrics) and a hat I made from a Vogue pattern using home dec fabric from Joann's and ribbons from Britex Fabrics
My Red Velvet Chevron Dress, rayon knit from Stonemountain & Daughter Fabrics, with a vintage straw hat
Another Trench from Christine Haynes book (fabric from East Bay Depot) and purple Kangol hat one of my sisters gave me for my birthday several years ago.
Black-and-white Chardon skirt (fabric from Seattle) and another vintage hat from All Things Vintage
Bias-cut skirt (fabric from Britex Fabrics) and a hat from Urban Outfitters, trimmed with ribbon from Britex Fabrics
Alabama Chanin wrap (fabric from Stonemountain, embroidery thread from Lacis) and vintage beret from an Etsy seller
(bottom row) Bluegingerdoll Dress (fabric from East Bay Depot) and straw hat
Rayon knit top (fabric from Britex Fabrics) and fleece beret (fabric from Joann's) from modified Simplicity pattern
My skirt from Basic Black (repeat from Day 9) and Kangol beret from a charity shop
My skirt with a yoke (B5756, fabric from Britex) and a navy vintage hat
The Anna Dress I made for Sewing Indie Month last year (fabric from Britex), and a black vintage straw hat with a veil
So what did I discover after 20 days of Me-Made May? Well, I have plenty of skirts and dresses to wear to work but very few casual things for the weekend. I had to repeat two tops this past weekend – my blue hummingbird top and my striped top from She Wears the Pants.
Also, we've been having unseasonably cool weather this month and I hardly have anything for cold weather. Most of things I've made have been cotton or cotton/lycra blends – not exactly clothes for 55-degree mornings. I'll keep all of this in mind as I consider upcoming sewing projects.
Oh, and another thing I noticed is that my face looks rather fat in some photos – a reminder that I've gained about ten pounds over the past year because I stopped going to the gym. Yep, I used to go to the gym during my lunch break but after my promotion, I got really busy and thus, no gym. Clearly, I need more exercise so I hope to be less sedentary in the next six months. Wish me luck! [Note: This is not a ploy for people to comment, oh, your face isn't fat, etc. The fact is that I've gained weight and I now have less ease in some of my clothes.]
I don't know if I'll participate in Me-Made May next year. I have to admit that I got tired of taking photos about a week into it, and stopped taking photos for a quite a few days after week three. Maybe if I do it next year, I'll reconsider taking photos every day. After all, it's not a requirement. That said, I do enjoy seeing what other people wear and what they've made. I've seen such lovely dresses by Pips of the girl in teacup, 100 percent me-made outfits (from undergarments to tops and skirts) on Emily's Instagram account (@dressingtherole) – she blogs at Dressing the Role, pretty dresses, tops, and skirts by Heather on her IG account (@knitnbee) – see her Week 3 Roundup, and many more.
Happy sewing!