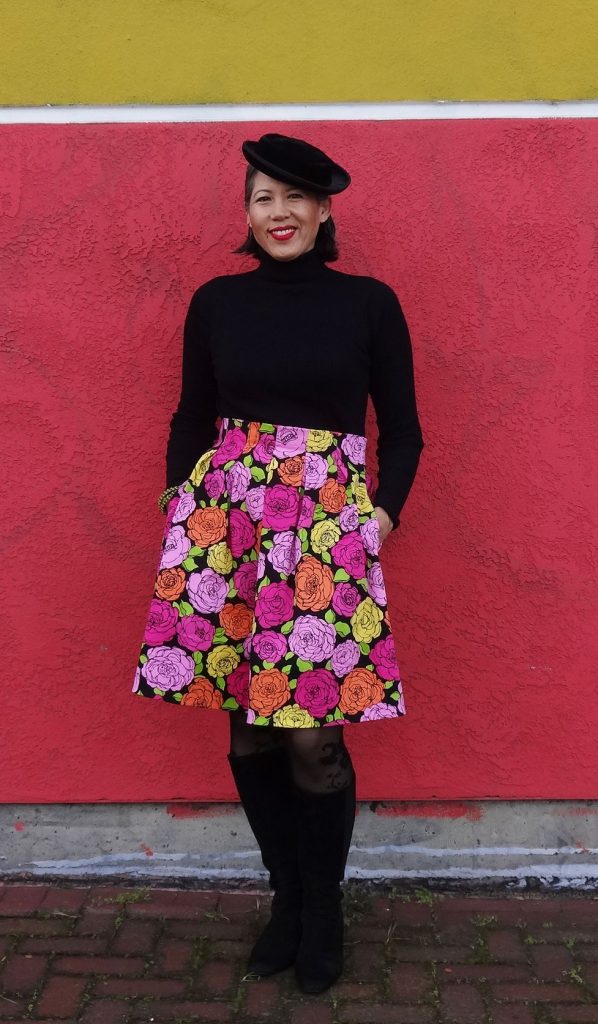 Voila! I finished my first Chardon skirt during my sewcation (sewing vacation!) over the holidays. This was my very first Deer & Doe sewing pattern. I made the skirt from this pretty floral fabric I got from my mom's closet – a cotton twill with some Lycra in it.  I'm usually not into pink but I love these flowers against a black background. Such happy colors!
The pattern calls for a medium-weight fabric and this was a little heavier than that. But I like it because I can put stuff in my pockets without ruining the line of the skirt. Plus when you use a fabric with a little heft to it, you can really see the fullness of the skirt and you don't need a crinoline. It just had nice body to it as is. I think if you use a lightweight fabric, you'll end up with a droopy skirt and you won't really be able to appreciate the inverted box pleats.
I'm wearing my black suede boots in the above photo. I had to lighten it so you could see my boots. They seem to meld with the tights in the other photos. The sun was shining on the other side of the street but I just love this red wall.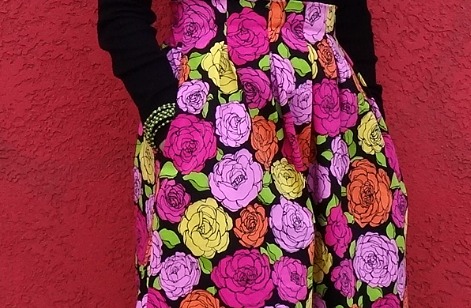 The Chardon skirt has pockets, which I love. In fact, I had my hands in my pockets for most of the photos! Heheh.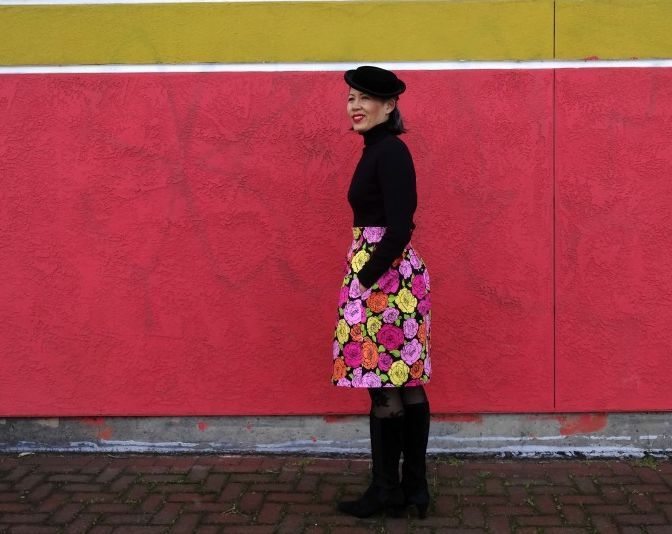 You can make the skirt with belt loops or a bow or neither. I left off the belt loops because I wasn't sure if I would like a belt with it. And I'm not a bit fan of bows, plus I read in Camille's post about her Chardon skirt that the bow in the back wasn't very comfortable. Apparently the knot dug into her back when she sat down. Her linen version is very pretty and is what inspired me to make this high-waisted skirt.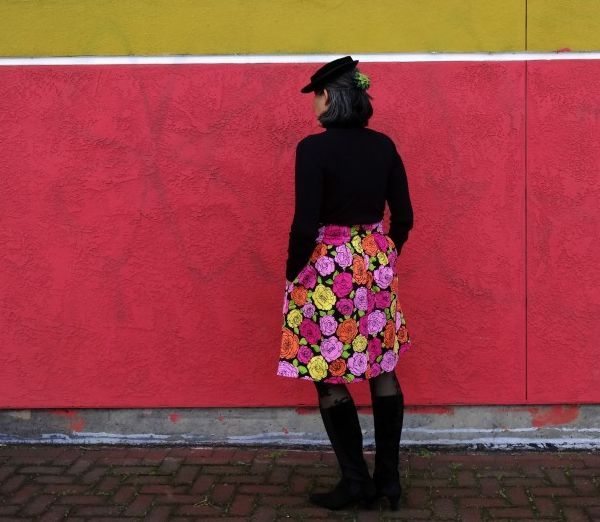 I'm showing my finished Chardon skirt first and then I'll be doing a separate post on the making of the skirt so you can see the details. I'm doing this backwards but it will take me a while to go through those photos and I didn't want to wait another week before posting about it.
I pretty much followed the pattern as is (traced a size 44) and made a couple of minor adjustments:
invisible zipper instead of a regular zipper in the back,
deeper pockets because I have long fingers,
slightly longer length because the pattern is drafted for someone who's about 5 feet, 5 inches tall (1 m 68 cm) – and I'm 5′ 8″ (about 172 cm).
This is essentially my muslin. The waist has a little too much ease at the top so I think I'll take in the center back seam just a little bit – maybe 1 cm or 3/8 inch.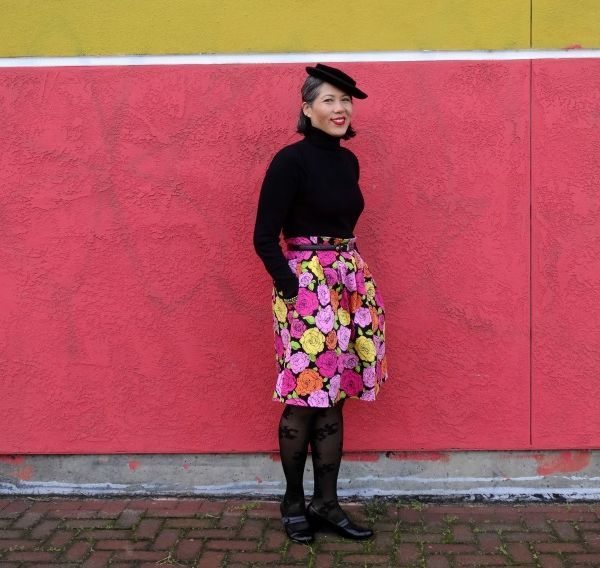 I did take some photos with a belt and my black leather shoes but I don't know if this is the right belt. Here's what it looks like from the back.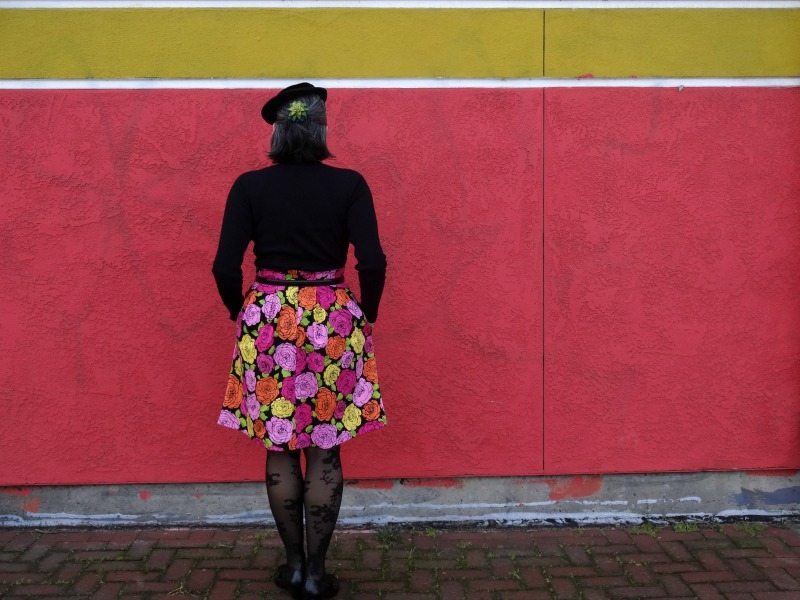 Then I went across the street, which was the sunny side of the street.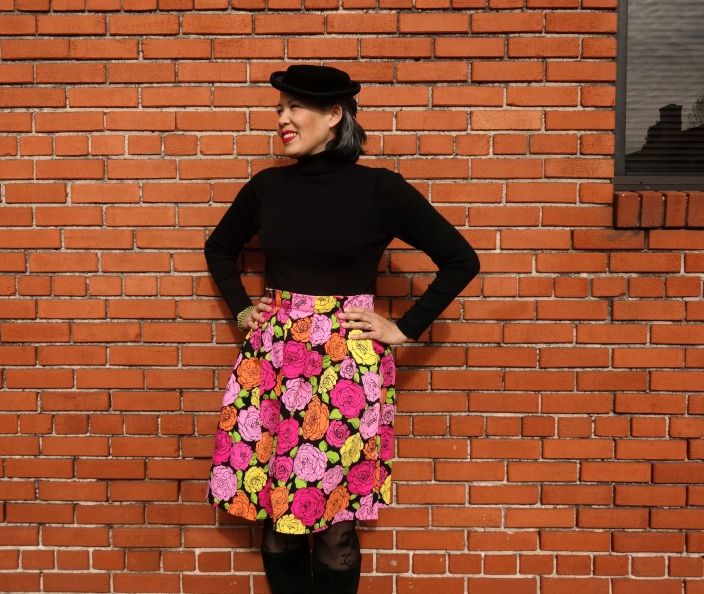 In case you're wondering, I'm wearing a black vintage velvet hat, which doesn't photograph well because it sucks up the light.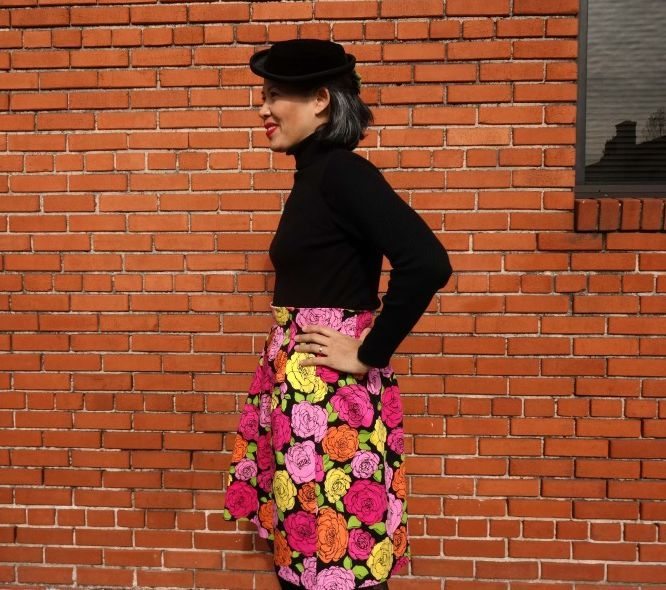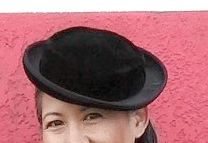 Here's a detail of the hat – the crown and underside of the brim is black velvet and the top of the brim is a black fabric (photo lightened so you can see the velvet). My husband doesn't really like this hat for some reason. He thinks it's odd or maybe too small for my head but I like it. I use a hat pin to keep it on my head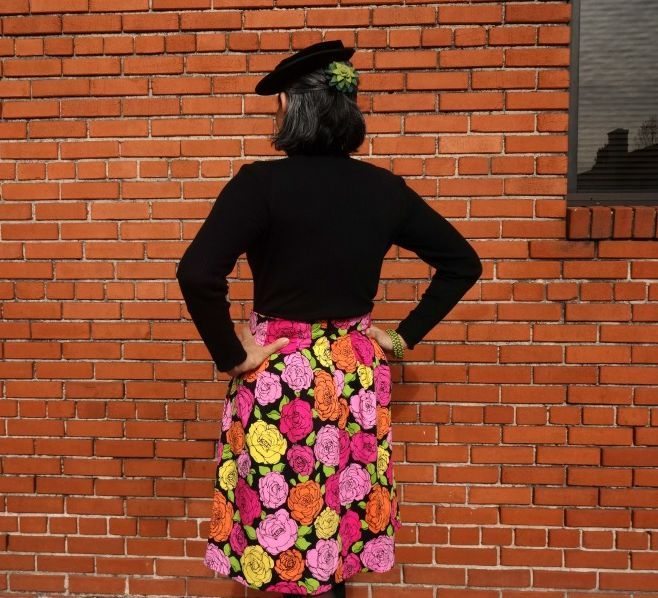 See how full the skirt is?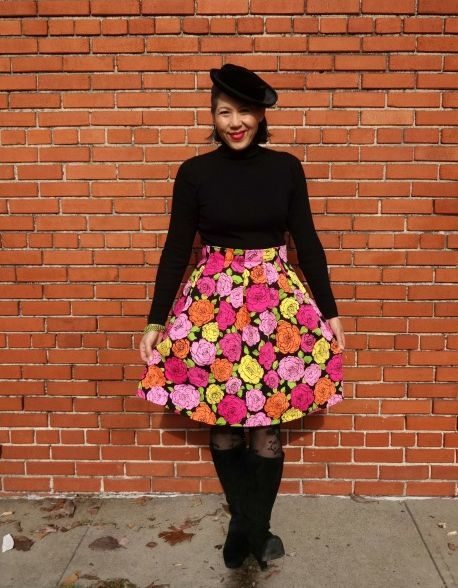 This is a great pattern for people with hips! I didn't need to grade up in the hip area, which I usually need to do. 😉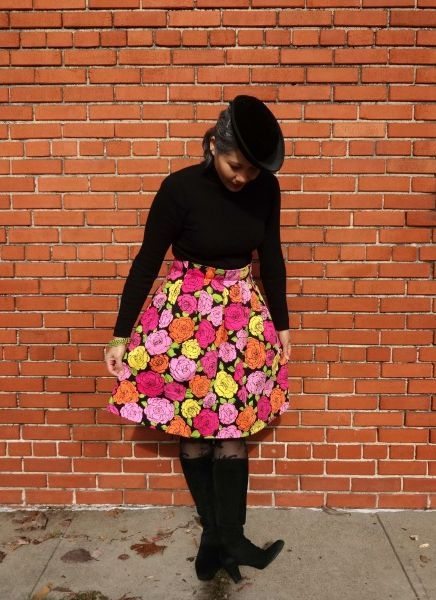 Stay tuned for construction details. Meanwhile thanks for visiting!