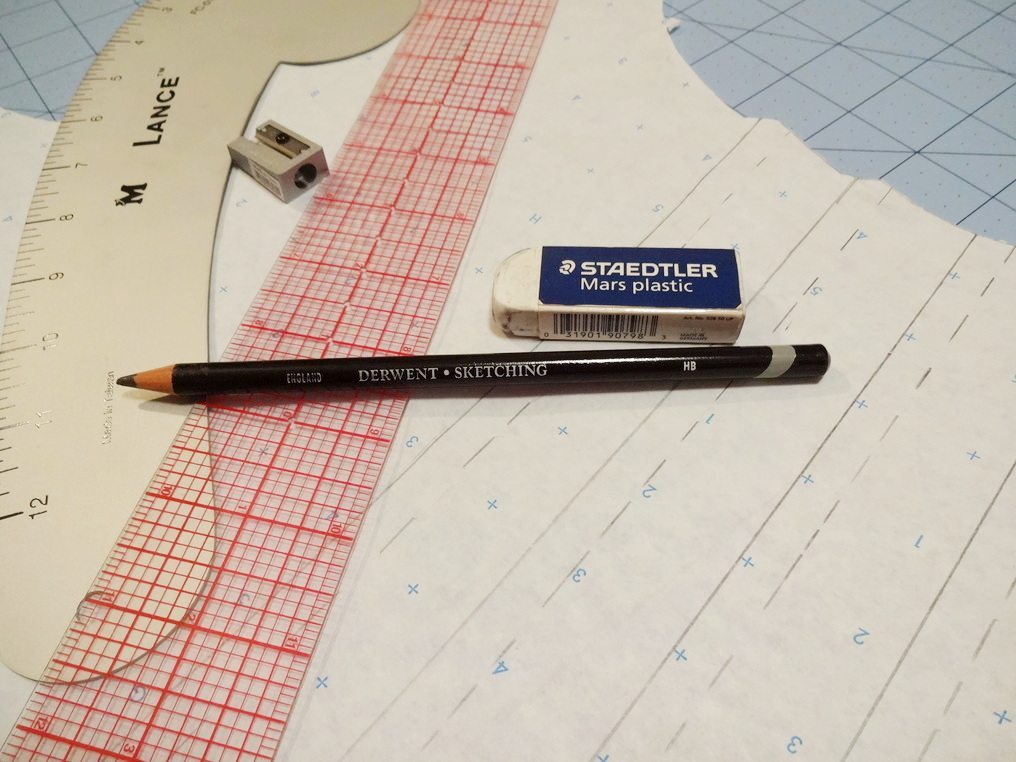 Over the past several months I've traced a few patterns for various garments I've made so I thought it would be a good time to share a few of my experiences. I've mostly been tracing sewing patterns from books but in once instance, I traced a PDF pattern.
I've mostly been using a 60″ wide roll of pattern tracing paper (10 yards for $22)  from Stonemountain & Daughter Fabrics in Berkeley (love this store!). But I also used a few yards of Swedish tracing paper that I bought online a couple years ago but never got around to using it until last year. This tracing paper is sort of like interfacing and can be sewn. However it's more expensive than paper. I've also read that the paper rolls used in doctor's exam rooms could be used as pattern paper. You can buy it medical supply stores – and it's fairly inexpensive. I"ll have to look into that when I'm done with the roll I'm using.
I like using a drawing pencil to trace. I've been using a Derwent sketch pencil from an art supply store — grade HB. Drawing pencils are graded by H (hardness) and B (blackness) — 9H is the hardest and 9B the darkest.  An HB is right in the middle of the range.
If you use a pencil that is too soft, your line will likely smudge and your pencil would get dull pretty quickly. You need a precise line for pattern tracing. For example, if you used a 5B pencil, you'd have a nice dark line but you'd have to sharpen it constantly.
You could use a 1H or harder pencil but I personally don't like the feel of H pencils. B pencils are great for drawing, the higher the number the blacker the pencil.
My favorite eraser is this white Mars plastic eraser by Staedtler. It erases very cleanly and gently. You don't have to worry about leaving ugly smudges or tearing anything when you use this eraser. The company also makes a great metal pencil sharpener – the blade never seems to dull. It's just the sharpener – it doesn't come with a container to catch the shavings.
Here are some things to keep in mind:
Before you begin tracing, be sure to find out whether a seam allowance is included. Some patterns don't include a seam allowance so you must remember to add that a 1/2″ or 5/8″ to your pattern or you'll end up with a garment that's too small. (After you trace out the pattern, use a ruler to measure out and mark the seam allowance. I pencil in little dashes every inch or 1/2 inch so and then draw the cutting line.)
Pay attention to the lines for your size. Look closely at the pattern piece before you put your pattern paper on top to trace it. Though you can see through your pattern paper, sometimes it can get a little tricky on those multi-sized patterns, especially on curving lines. I usually end up counting out the number of lines to get to my size (for example, if a pattern is sized from 0 to 18 and you're a size 12, then you count four lines over (18, 16, 14, 12) from the largest size to get to size 12).
When you're tracing the lines, it's very handy to use a transparent ruler with a grid and a french curve, which makes it easier to trace hip and armhole curves. You could trace pattern lines freehand but you might not be as accurate unless you're one of those people who can effortlessly draw a straight line without a ruler.
When you're done tracing the pattern piece (be sure to include darts and other markings) don't forget to draw a line indicating the grainline. This is critically important. I forgot to do this on an asymmetrical pattern piece and there was no way I could approximate where it would go. So I had to take out the original pattern, lay my traced pattern on top, line it up, and then draw in the grainline (so annoying).
When you're done with the tracing, copy the words listed on the pattern piece. For example, write the name of the pattern – or your shorthand nickname for it – on each pattern piece (for example, "Cool Cape") and then identify the piece, such as Front Facing, Sleeve, Skirt Front, etc. Also, write down the cutting instructions, such as Cut 2 of Fabric, Cut 1 of Interfacing. Then if your pattern pieces get mixed up with others, you'll know which pattern it belongs to.
Soon I'll be writing another post on the different patterns I've traced. I was going to include that here but it was getting too long so I decided to break it up.
In the meantime, please share what your favorite pattern tracing tools are.