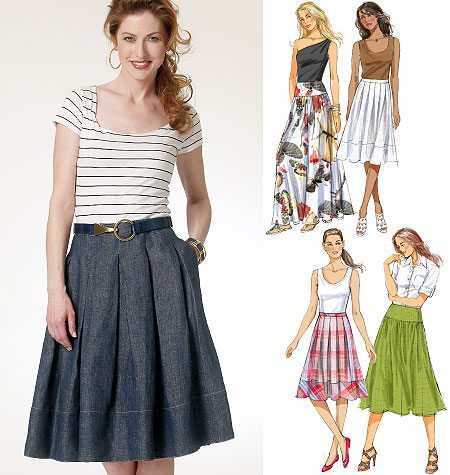 I'm making a skirt using this Butterick pattern (B5756), which I got a while ago. I like skirts with a yoke. I'm making version C (the green skirt pictured, at right, on the pattern illustration) but a couple inches longer because I like a mid-calf length. My fabric is a cotton voile, which I got at Britex Fabrics in San Francisco – on one of its rare sale days last year. I knew I wanted some Bemberg lining, which is breathable and anti-static. (To read more about why it makes such an excellent lining check out Bemberg-the King of Linings at Tailor on Ten.)
Earlier this week, I took a break from work and popped into Britex to choose a skirt lining color. (Lucky me – I can walk from my office to Britex in about 12 minutes.) I left my swatch at home but I had a photo of the fabric on my phone – granted the colors wouldn't be exact but hey, it's a lining color.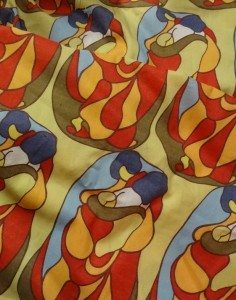 I told the salesperson that I was thinking of going with a light yellow to match the background color of my fashion fabric, this cotton voile, which has an Art Deco look to it. (If you look closely you can see a family there. The darker blue is the hair of the parents.)
But he told me that a lighter color would just wash out the colors. I asked him what color he would recommend and he said he'd go with the darkest color – the blue.
"Would that affect the the colors – like make the yellow look green?" I asked.
"No, I've done this before," he said. "It won't affect the color. Besides you don't want a light color because it'll get dirty."
All excellent points, eh? I've only lined a few things: a wool jacket, some vests, and hats – and all those things were with medium-weight fabric, not a lightweight fabric like voile.
So then I thought, OK if I go with a darker color, then how about red? So he pulled out a couple reds, one was more orangey so we rejected that. Then he cut some swatches, which I then took home with me.
Here are the swatches, which Britex staples to a nice card.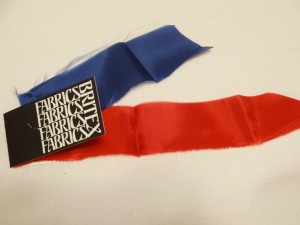 And here's what the fabric looks like with this white fabric behind it. It does seem a little washed out.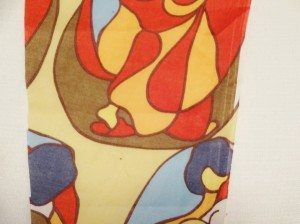 Here it is with blue against it: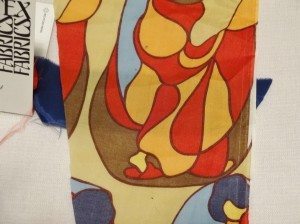 And here it is with the red.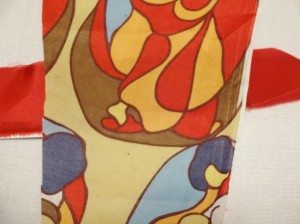 I'm leaning towards the red. Which color would you pick to line this skirt? Blue or red?