Hi, in December I was asked by Tuttle books is there was a sewing book I'd like to review. I browsed their craft books and saw that earlier this year the publishing company had released the English-language version of Stylish Wraps by Yoshiko Tsukiori ($15.95, Amazon affiliate link here, Tuttle link here). Somehow I missed the release of this book back in August.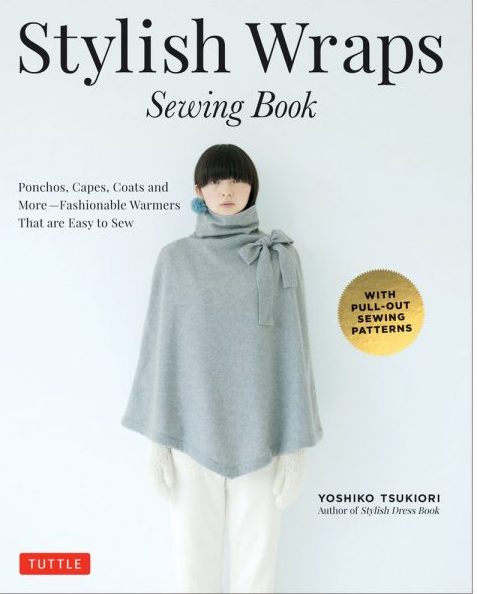 Tuttle publishes several of Tsukiori's sewing books, including Stylish Party Dresses. If you're familiar with Japanese sewing books, it typically follows a format like this: 1. photos of finished garments, 2. instructions with clear diagrams and 3. a set of full-size patterns printed on both sides of the paper. For Stylish Wraps, the patterns are printed on the front and back of two large pieces of paper. The patterns are stored are in an envelope attached to the inside back cover.
Stylish Wraps is a good book for beginning sewists because the patterns are simple, such as Poncho A, which is essentially a rectangle folded in half with a hole cut in the middle for the head and then the corners cut in a curve to form the sleeves.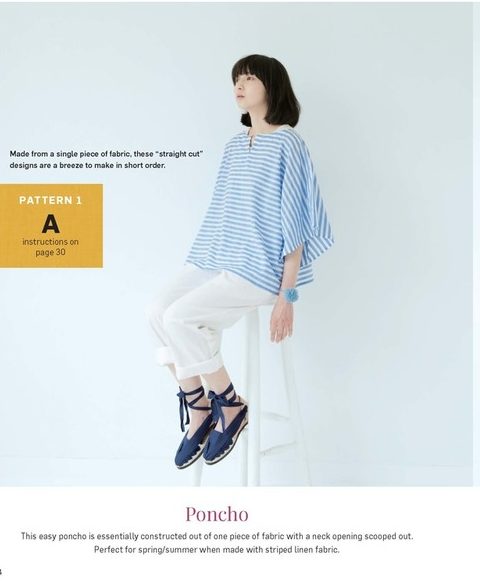 There's also Poncho B, which is a variation of Poncho A – a circle with a hole cut in it and a ruffle added to the sleeve.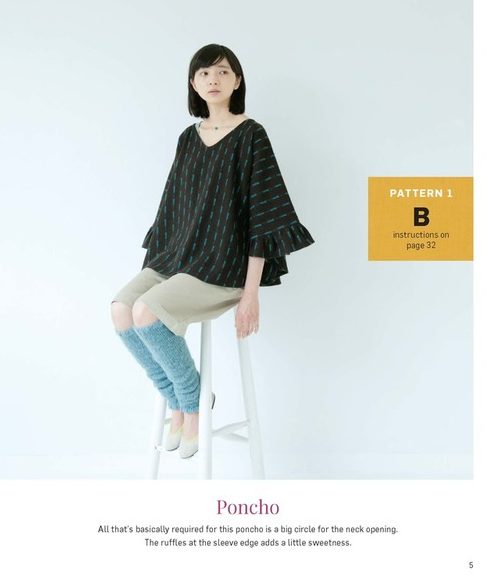 There are 22 patterns in Stylish Wraps, each identified by a letter of the alphabet and a brief description. Similar to Tsukiori's other sewing books, some designs share the same pattern pieces for the garments. This means that some patterns are quite similar to each other and essentially variations on the same design.
The table of contents divides them into 5 categories – Straight Cuts, Capes, Accessories, Dolman Sleeves and Regular Sleeves. For example, patterns D and E – Drape Jacket and Drape Vest, are in the Straight Cuts section. They use similar pieces except that one has sleeves and the other doesn't.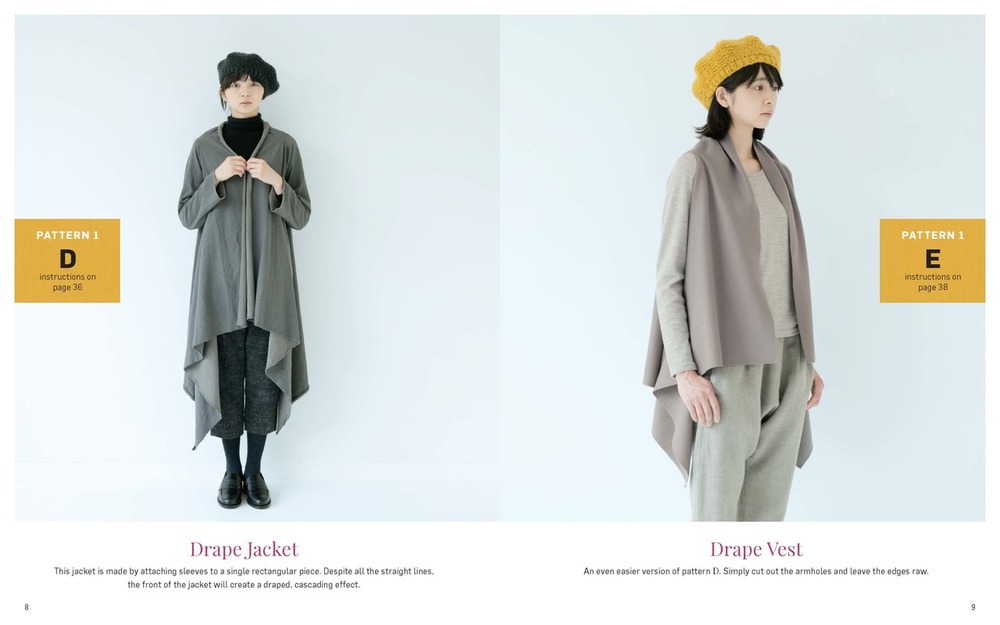 The Drape Jacket is made with sweatshirt fabric. I like this design and the fabric choice.
I also like the Bolero, Pattern P, which is the featured in the top left photo on the back cover below. The cool thing about the bolero is that is has an entirely different shape when you tie the ribbons.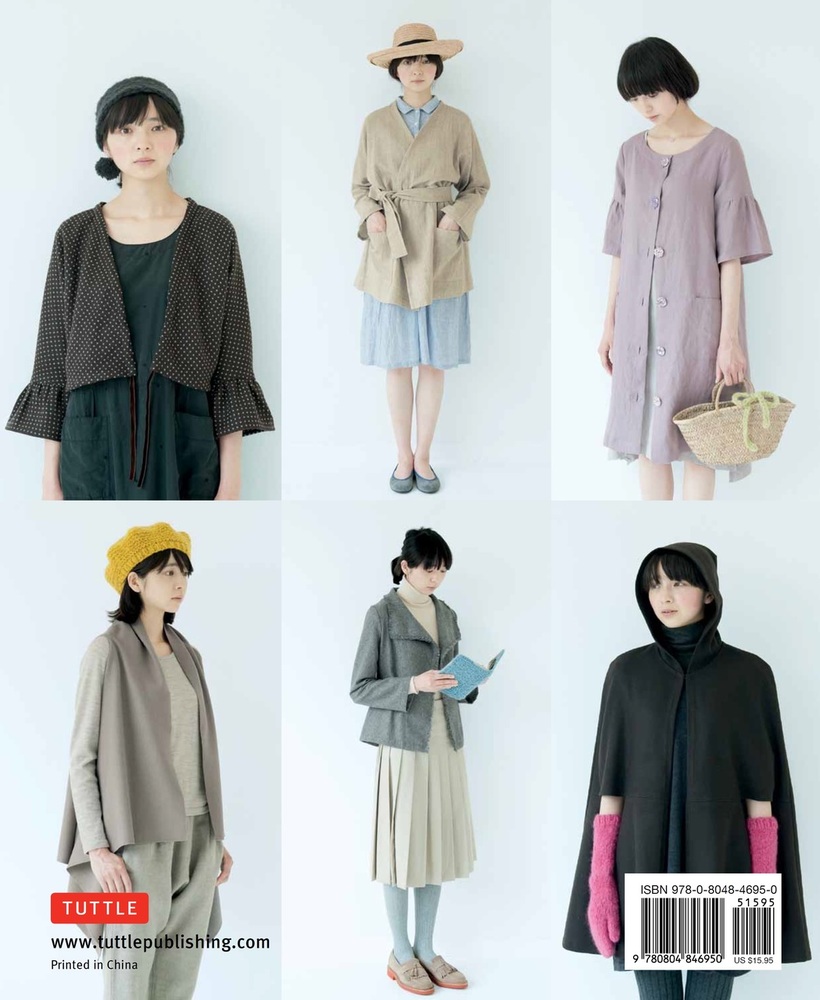 The title is a little misleading as not everything is a wrap. As you can see, some of the designs are coats and vests. There are also knitting patterns for mittens and other accessories.
Then there are a few faux fur designs, such as this cape, which is a bit odd looking. Maybe it would look better in black? It looks like two furry arms.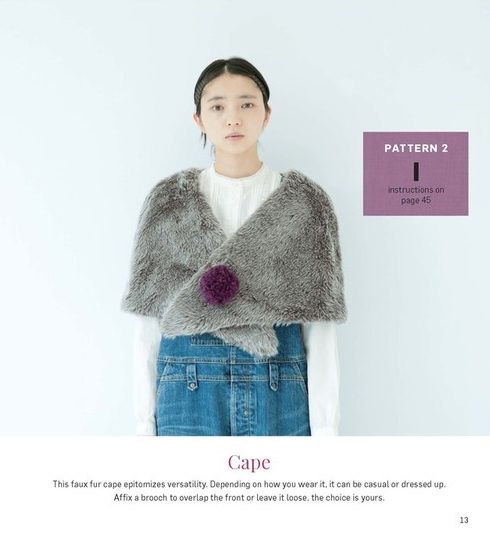 There are four sizes – 7, 9, 11 and 13, which translates to bust 31 (78), 33 (83), 35 (88) and 37 (93). Don't be alarmed by these measurements. There is a lot of ease in Japanese sewing patterns so don't assume the patterns are too small for you.
I've sewn the largest size of other Japanese patterns, such as this skirt from Basic Black, and the garments fit well. I'm nearly 5′ 8″ (172 cm) and have a 38″ bust. See my post on Japanese sewing book sizing for more info on sizing.
None of these patterns are fitted and they are designed to be loosely fitted. If you haven't tried a Japanese sewing book, you might want to check this one out. The designs are nothing fancy. A few are frumpy but there are some stylish ones in the mix – and for $15.95, it's a good deal.
I'm giving away a copy of this book on my blog. So if you'd like a chance to win a free copy, just comment below. I'll pick a winner at random and Tuttle Publishing will send you a copy. This is open to all – worldwide entries are allowed. Add your comment by next Thursday, Jan. 11. I'll announce the winner on Friday, Jan. 12 on this blog post. Good luck!