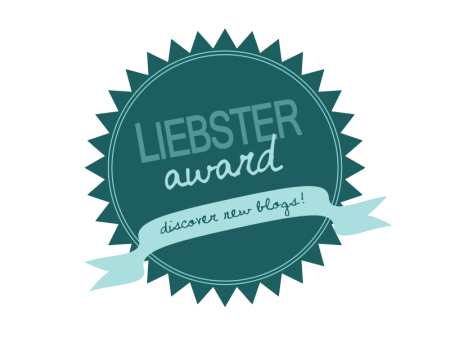 The talented Melanie of The Seeds of 3 nominated my blog for a Liebster Award – THANK YOU, Melanie! The Liebster Award is for bloggers with fewer than 500 followers. One part of receiving this acknowledgment is to pay it forward and list eleven other blogs with fewer than 500 followers as well as answer and ask questions. And Melanie listed mine in her post, which you can read here.
For some reason, I didn't get pinged that she had nominated me two weeks ago so I didn't know about it. I checked my email and nothing posted there (oops – sorry Melanie for my belated response!).
Here's what you do when you're nominated:
1. Thank the blogger who nominated you
2. Answer the 11 questions given to you
3. Nominate 11 other followers with less than 500 followers
4. Post 11 questions for your nominees to answer
5.Tag your nominees & post a comment on their blog to let them know you nominated them
Now I have a moment to answer Melanie's questions:
1. What was the first thing you've ever sewn? 
I really can't remember what that first thing was – I'm sure it was something I did with my mom because she taught me and my sisters to sew on her Singer. I got more formal instructions in my junior high home ec class. We all made stuffed animals from kits that came with the fake fur fabric, etc. I made a gray whale, which had a mouth that opened (pink fake fur inside!). In high school I made a hat from some off-white fake shearling. I didn't use a pattern – I just made it up as I went along. It was inspired by those Russian hats with ear flaps – kinda like these hats.
2. Did you wear it? Why or why not?
Yes, I did wear the hat a few times but the fit wasn't great so it ended up in the closet.
3. Do you believe in fate?
Depends on when you ask me and what's happening in my life at the moment. 😉
4. What is your earliest memory?
One of my earliest memories is my dad taking me to a toy store and letting me pick whatever I wanted except that I couldn't make up my mind. I was about five years old. I think I was still getting over the fact that my mom threw away an old but well loved blanket of mine just before we moved. I'm sure she thought it was old and ratty so it was time to get rid of it. Bad timing though – apparently I cried from the moment it was taken away and the entire two-and-a-half hour drive to our new home. I have no memories of that blanket or the move. I think they felt guilty about the blanket – thus I had carte blanche at the toy store.
5. If you drink, what is your favorite cocktail (recipe please!)
I don't drink very often but the last mixed drink I made was an egg nogg martini. I can't remember what recipe we used. I found something online – vodka, eggnog, and something else. Just search "eggnog martini" and you'll find many recipes.
6. What kinds of books do you like to read?
I like nonfiction history – especially true stories that seem unbelievable that they would be hard to believe even if they were fiction. I'm currently reading The Black Count: Glory, Revolution, Betrayal, and the Real Count of Monte Cristo by Tom Reiss – absolutely fascinating biography of General Alex Dumas – the father of the novelist Alexandre Dumas, author of The Three Muskateers. And my guilty escapist pleasure is science fiction and an occasional historical romance.
7. When was the last time you were sick with something other than a common cold? What was it?
[Knock on wood] I have been very fortunate not to get sick with anything other than a really bad cold.
8. Are you an introvert or an extrovert?
I lean more towards being an introvert but over the years I've become more of an extrovert and more comfortable with public speaking.
9. What sewing tip have you learned that blew your mind?
Use a highlighter to mark pattern notches so you won't forget to make them in your fabric. I got this tip from Brooke of Custom Style. I think I posted on Instagram or maybe it was a tweet  – about how I forgot to mark my notches and then had to go back to the pattern and put them in (so annoying!). Brooke responded that she uses a highlighter so she won't forget – such a useful (and time-saving) tip.
10. What is your dream sewing machine if money was no object?
I don't like machines with a bunch of fancy programmable electronics so I would just say a machine that easily sews a variety of stitches and all types of fabric really well. Oh, and that it comes with every type of foot imaginable. 🙂
11. Do you prefer hot or cold climates? Why?
My true preference is warm but if the choice is only hot or cold, then I pick hot. Being cold and shivering is worse than being hot and sweaty.
Now here are my eleven nominations for a Liebster Award. I referred to my bloglovin' account to determine the follower numbers – but please note – just because people have fewer than 500 followers on Bloglovin' doesn't mean they don't have more than that elsewhere. I also picked folks who I follow via Bloglovin or Twitter and/or who have commented on my blog. Some of you may have already received a Liebster – sorry I don't have time to vet all my nominees. I like many of the blogs on Melanie's list but I left them off my list so I could nominate different folks. In no particular order, they are (drum roll, please):
2. Custom Style
6. Sewtell
7. Bonne Chance
11. A Make It Yourself Mom's Diary
12. Sew Exhausted [Ok- I was supposed to stop at 11 but I just had to add Laurie's blog!]
And here are my eleven questions for you:
1. What is the first thing you sewed that you liked enough to wear in public?
2. Where did you grow up?
3. What are your favorite colors?
4. What's your favorite season of the year?
5. What's the last sewing book you bought?
6. Have you made anything from a vintage (or vintage-inspired) sewing pattern?
7. If so, did you like how it turned out and did you wear it out?
8. What helpful sewing tip did you pick up over the past year?
9. What's your favorite sewing machine presser foot?
10. What's your favorite cuisine (Thai, French, Italian, etc.)?
11. What's your favorite dessert? If you have a recipe, please share it!
Well, that's all. Thanks so much, Melanie, for the nomination – I really appreciate it!