The Manus x Machina exhibit at the Metropolitan Museum of Art was a gorgeous show exploring "how fashion designers are reconciling the handmade and the machine-made in the creation of haute couture and avant-garde ready-to-wear." There was meticulous craftsmanship in all of the work – regardless of how it was made.
It was a lot to take in:  "more than 170 ensembles dating from the early 20th century to the present," according to the Met's website. I took a lot of photos with my phone, which you'll see in this post. You can also see a few other photos in my earlier post about my trip to NYC. [Warning: I've been having some trouble with images on my blog so if some images don't load, try reloading the page. If that doesn't work, please let me know. Thank you!]
I saw the show in August on a quick jaunt to New York – just before I closed in early September. I would have loved to see it again when I wasn't swooning over the dresses and so in awe of the stunning details, but alas, I didn't have time for a return visit before it closed.
Speaking of stunning detail, check out this House of Dior "Junon" dress from the fall/winter 1949-1950 haute couture collection. Wow.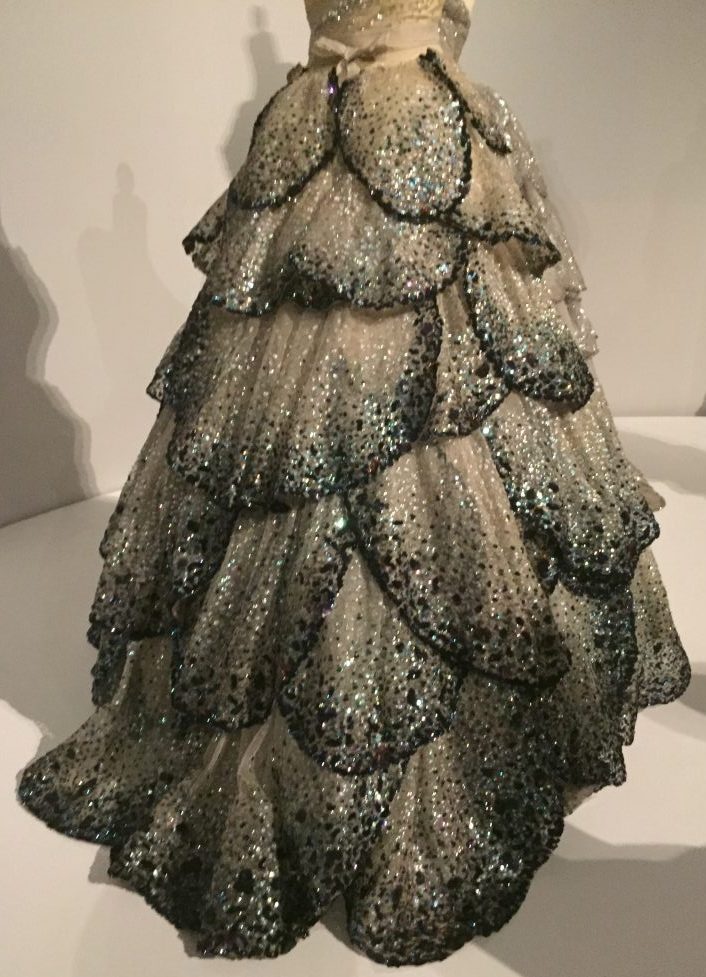 It is machine sewn but the silk faille and taffeta were hand finished and the silk tulle was embroidered with sequins, plus there were "forty-five hand-cut pale blue silk tulle and horsehair petals, hand-embroidered with opalescent, blue, green, and orange gelatin sequins. Uh – wow again.
Here's a close-up shot. I couldn't get too close to the dress so this is using the zoom on my phone but you can see that the sequins are all over each "petal." I can't imagine how many hours went into constructing this dress. And this is why couture dresses cost tens of thousands of dollars. The labor alone must be a fortune.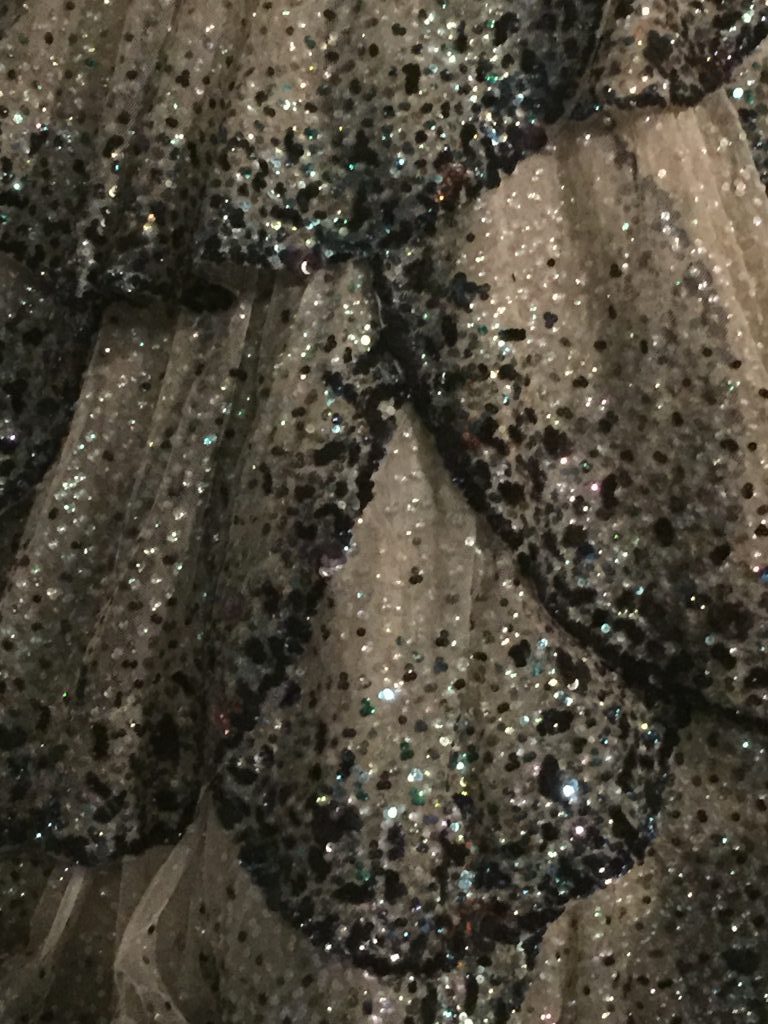 I admit that I really didn't view this exhibit with a critical eye because I was ogling the striking ensembles. What fascinated me was the juxtaposition of dresses from one era positioned next to dresses created decades before – but loosely linked by certain design elements – such as pleats, feathers, flowers, lace, or beads. I was more focused on individual garments so I didn't take many where you can see the mix of different eras or many garments in one shot. (See this link on the Met's site for photos with several garments together.)
But here's one photo, which is a great example of Costume Institute curator Andrew Bolton's curatorial skills. On the left is a 1963 evening gown by Givenchy – made of red-orange cotton lace, hand embroidered with glass beads, tinsel and pieces of coral; on the right is a 2012 Alexander McQueen gown. I didn't take a photo of the exhibit label for the McQueen garment so I don't have any details but as you can see, it's loaded with coral, shells, and various beads. A nice complement to the Givenchy gown. I think you'd have better luck sitting down in the Givenchy dress. The McQueen outfit has shells in the back, too. Good luck sitting down.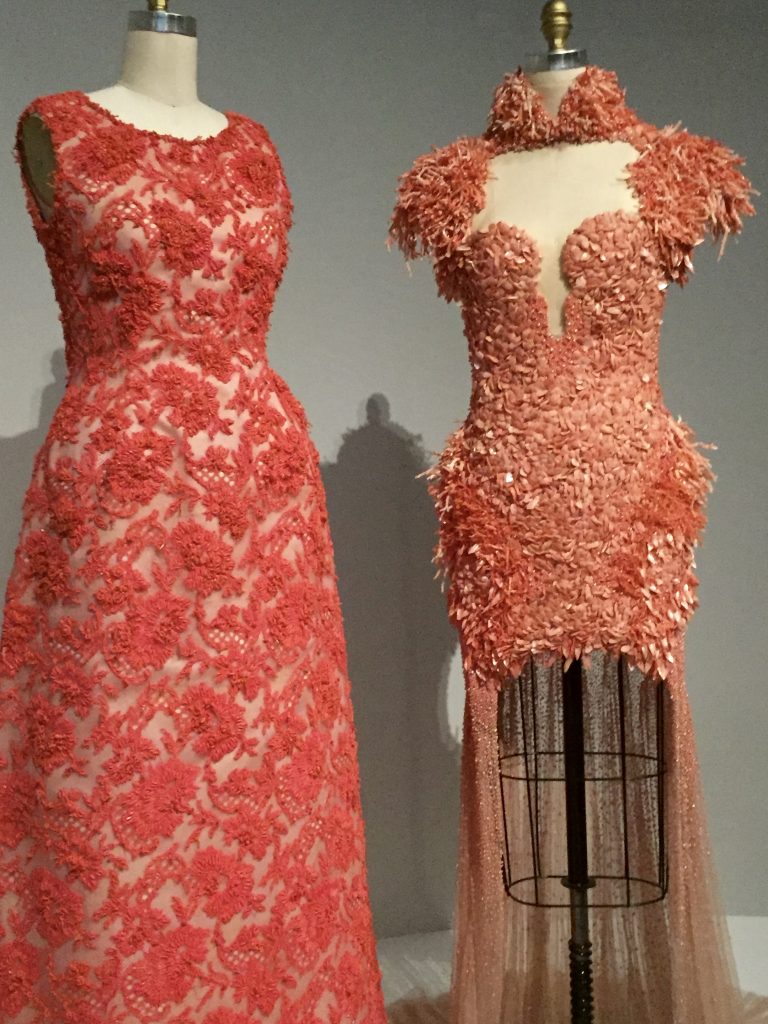 The following photos are (sort of) in order of my wanderings of the exhibit. (There are many things I didn't photograph.)
Here's an Iris van Herpen dress – fall/winter 2013-14 haute couture – made from black-cotton twill, hand-painted with purple and polyurethane resin and iron filings, hand-sculpted with magnets. Magnets! OK, I would never wear this but I thought the materials were fascinating. It would be like wearing sculpture – but I guess you wouldn't want to be around any electronics. Who knows what the magnets would do to your cell phone?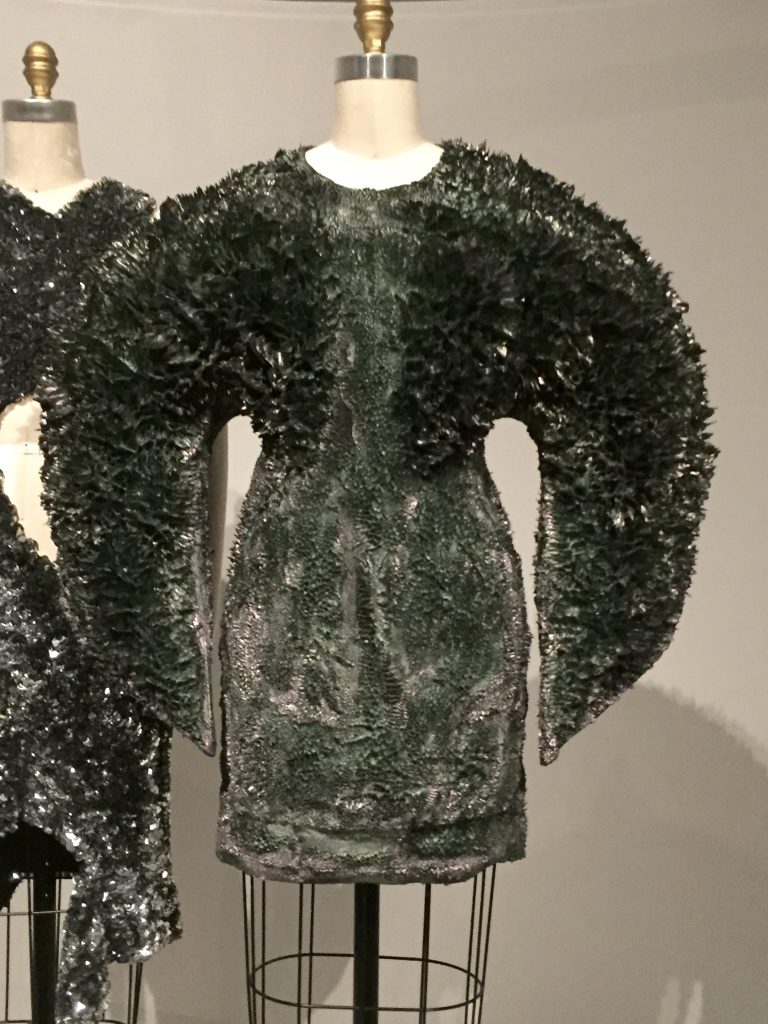 Here are a pair of Norman Norell evening dresses, 1965, pret-a-porter, machine-sewn silk jersey, hand-embroidered with gelatin sequins, machine-finished, and hand-hemmed. You'd need a svelte figure to pull this off.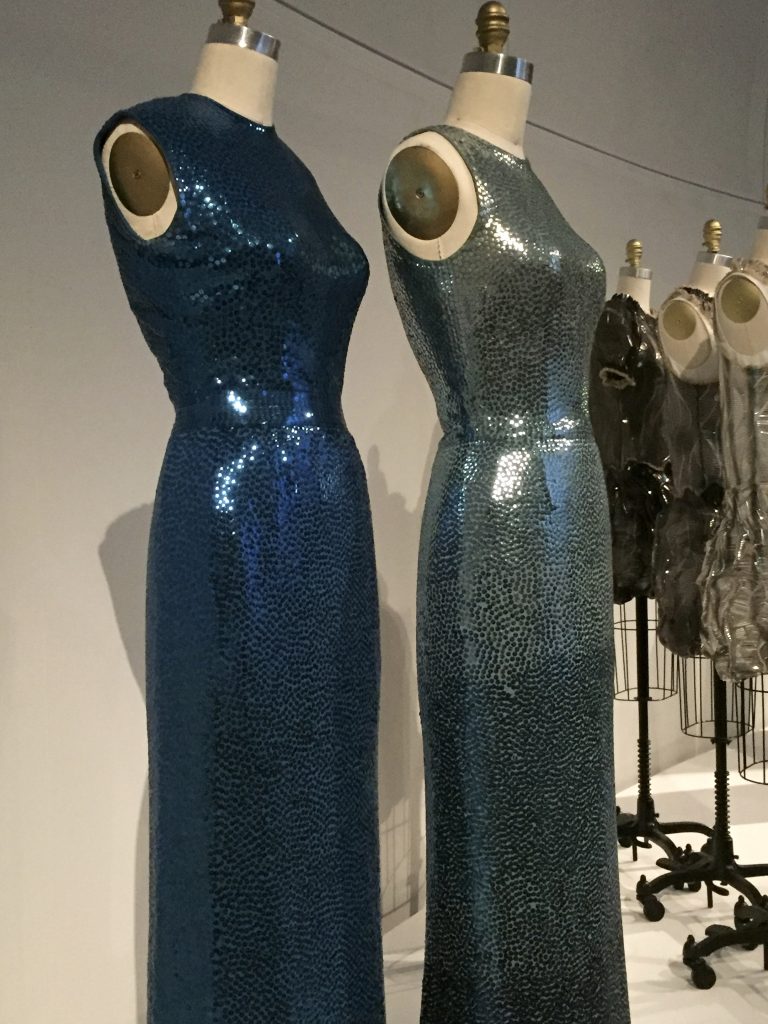 A 1928 court presentation ensemble designed by Boué Soeurs (French, active 1899-1957), haute couture – hand-sewn silk tulle, machine-embroidered with couched silver cord in a foliate and vermicelli pattern, machine-picot edging, hand-appliquéd with hand-embroidered silk tulle with artificial flowers. I'm assuming that this dress is worn when one is presented to royalty and you don't sit down in their presence so a skirt with pouf is fine.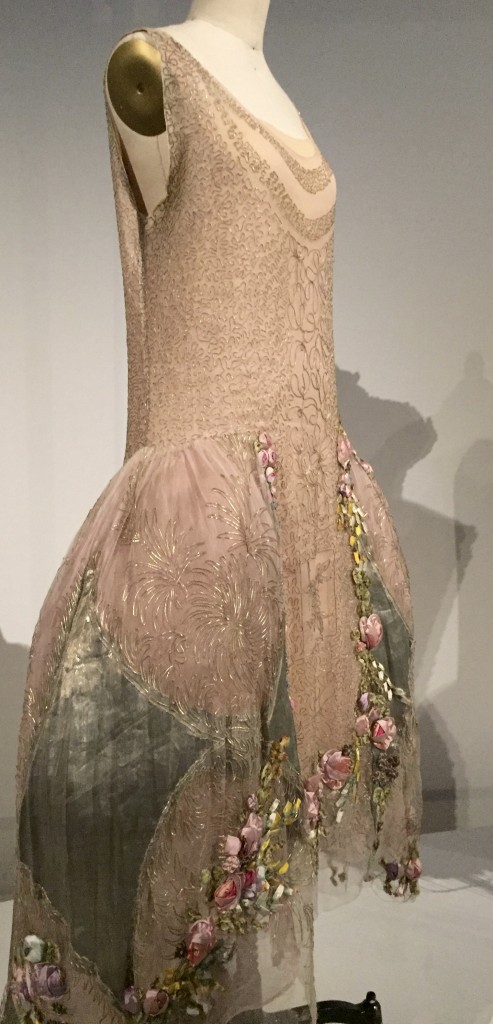 Here are two more by Alexander McQueen – from spring/summer 2009, pret-a-porter, machine sewn silk duchesse satin and nude silk georgette, hand-embroidered with silver metal flower petals and synthetic pearls. I wonder how stiff those flowers are and whether it's uncomfortable to sit down in one of these. The length is rather short  – micro-mini so maybe you don't want to sit down. 😉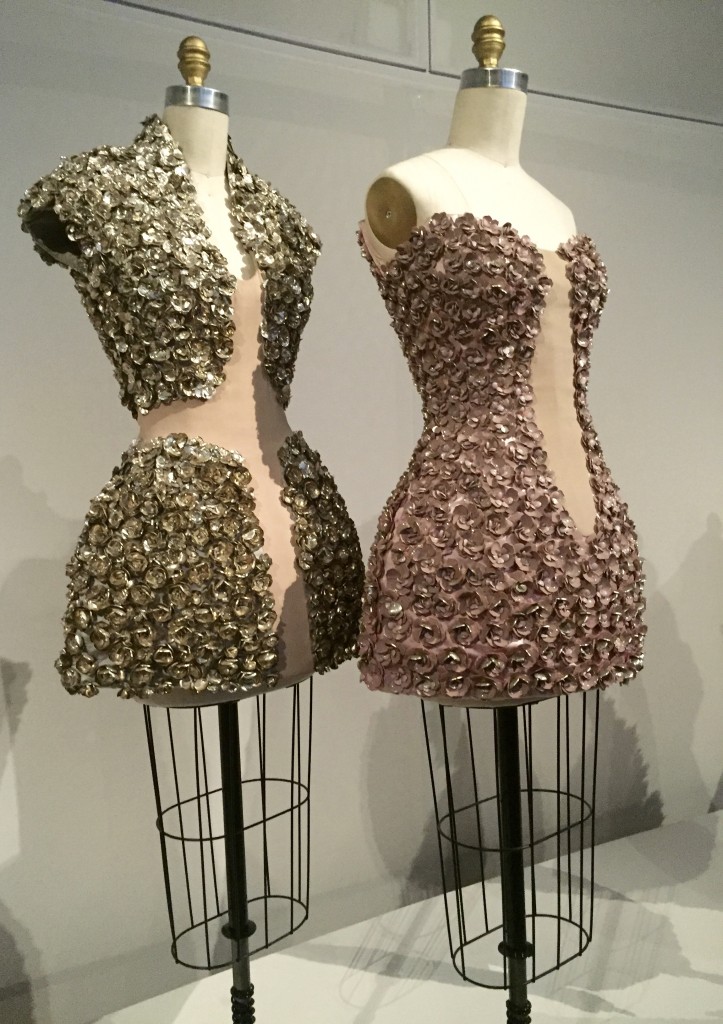 This frothy confection is the "Duck dress" by Hussein Chalayan, from his spring/summer 2000, pret-a-porter collection – made from machine-sewn pink polyester tulle, hand-gathered and sculpted, machine-stitched to pink cotton twill. I'd like to pet this dress.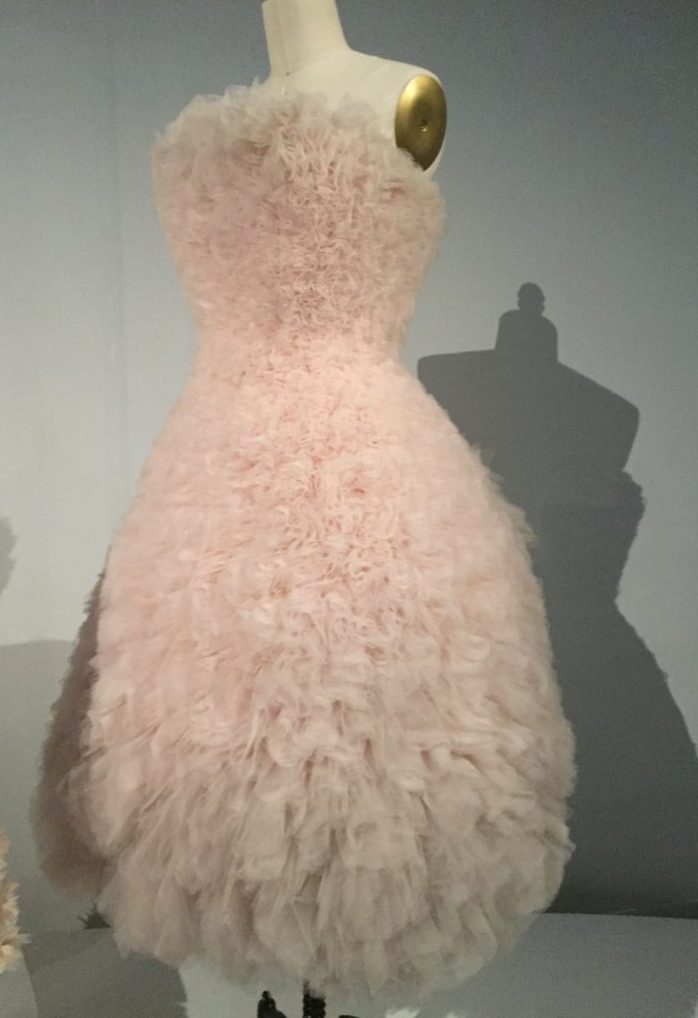 This elegant evening dress is attributed to French designer Callot Soeurs, ca. 1920, haute couture – hand and machine-sewn black silk chiffon with hand sewn inserts of antique ivory bobbin-made tape lace, and hand-applied handmade gold metallic braided passementerie.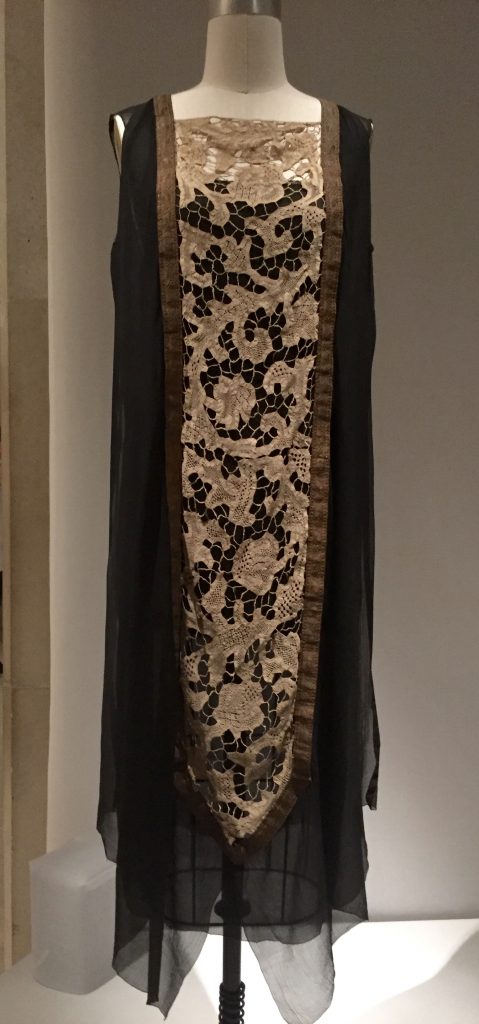 The "Golden Lily" dress by Marios Schwab – fall/winter 2008-09, pret-a-porter – machine-sewn digitally printed georgette silk with overlay of laser-cut black-silk grosgrain. Awesome use of laser cutting – but I'd be afraid of catching my sleeve on something and tearing it.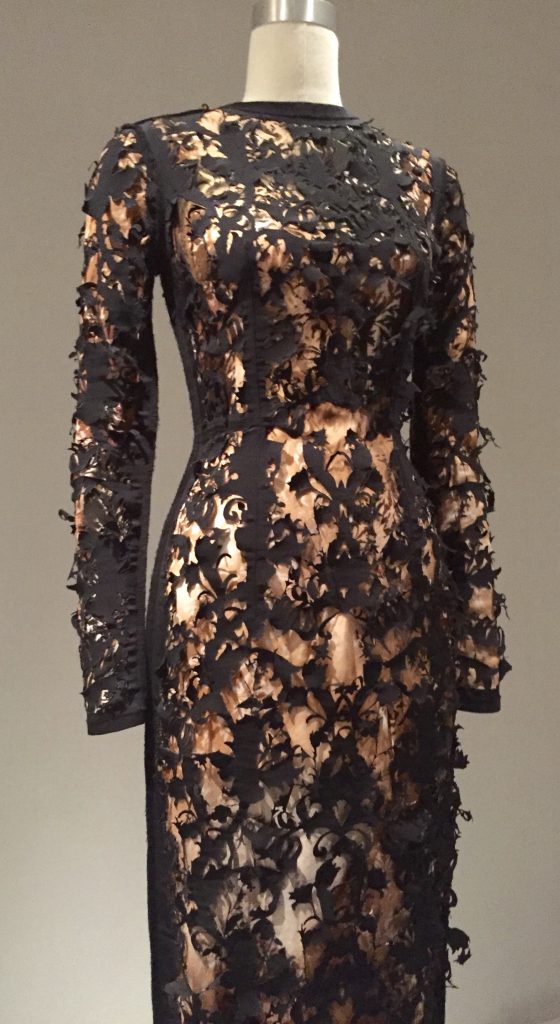 This is a 19th-century Irish wedding dress (ca. 1870) – hand-crocheted cotton lace with three-dimensional motifs (roses, lilies of the valley, hanging fuchsias, morning glories, buds and berries, and flat and folded leaves and ferns). I wonder how long it took to crochet this dress. Maybe you start crocheting it years before your wedding day, before you're engaged, in the hopes that you will get married. Or maybe you're wealthy and hire a team of people to crochet this for you. I'd love to know the history of this dress.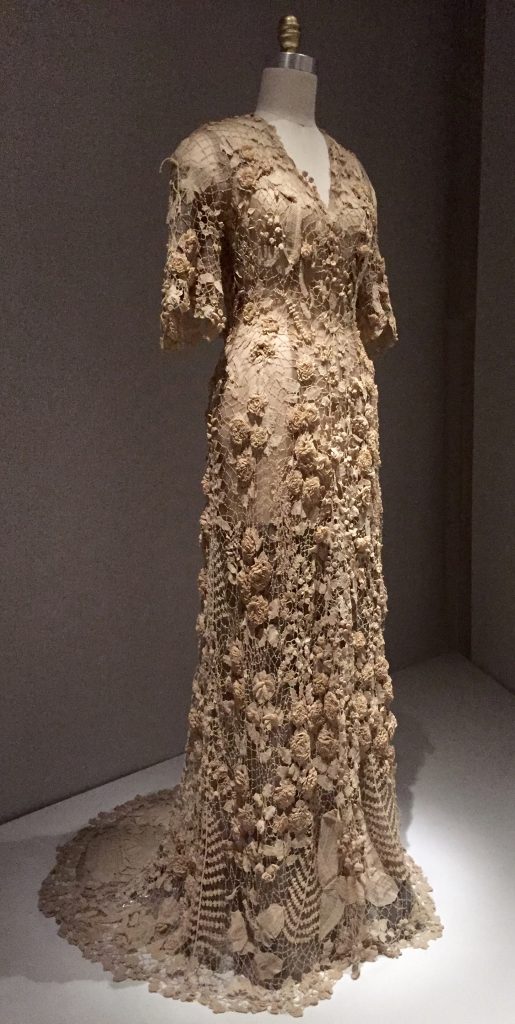 Here's a detail of the crochet – amazing what you can do with a crochet hook!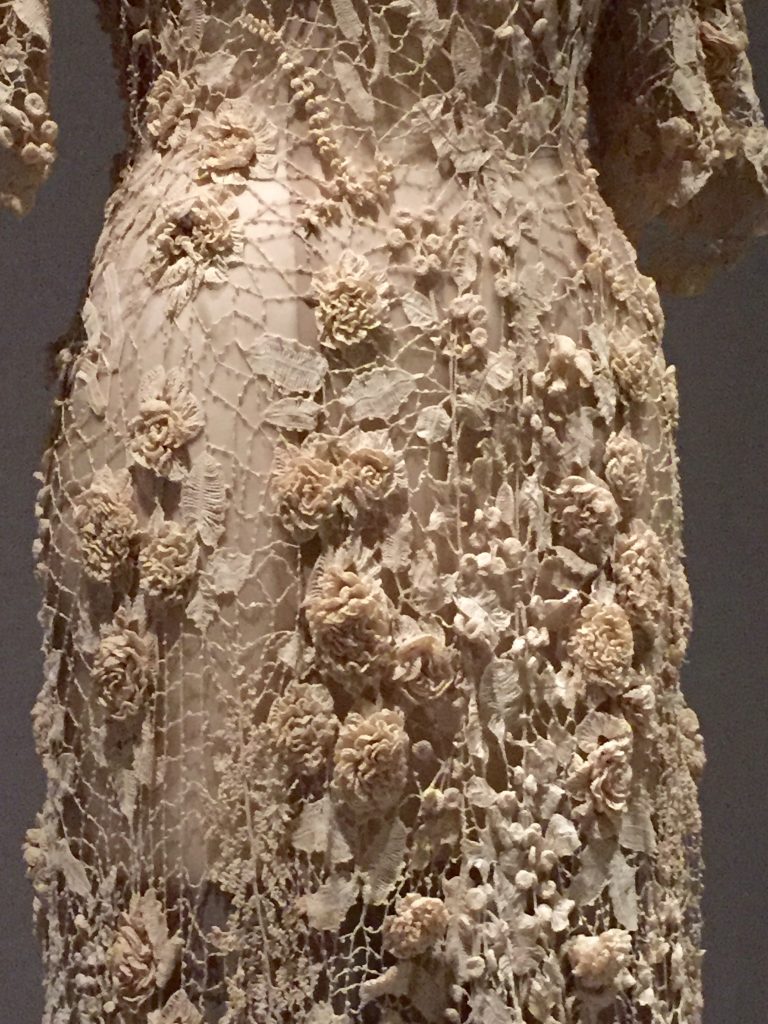 A lovely Chanel evening dress, 1937-38, haute couture, hand-sewn, machine-made black silk-rayon lace, hand-shaped with wire and horsehair at sleeves, hand-attached, machine-sewing black rayon crepe liner, white linen floral corsage with die-cut, hand embossed and hand-assembled flowers. It's hard to believe that this was designed more than 75 years ago.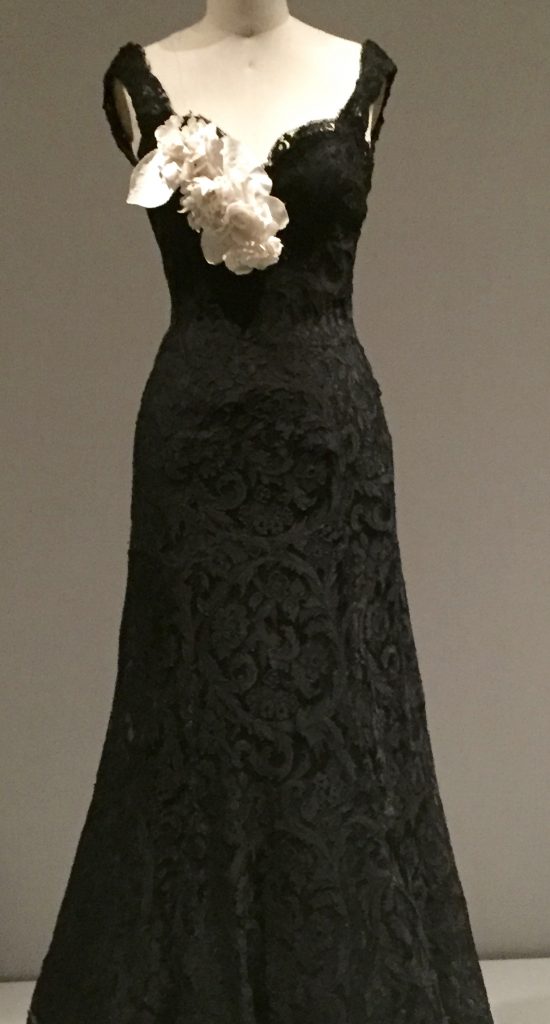 How's this for a modern take on lace? This ensemble by British designer Christopher Kane (spring/summer 2013) features a machine-sewn grey synthetic organza shirt and a machine-sewn white silk organdy skirt with hand-stitched overlay of 3-D printed black polyurethane bows. The 3-D printing is so cool. I wonder if it's squishy – would it be like sitting on licorice whips? Or would it be hard, like sitting on extension cords?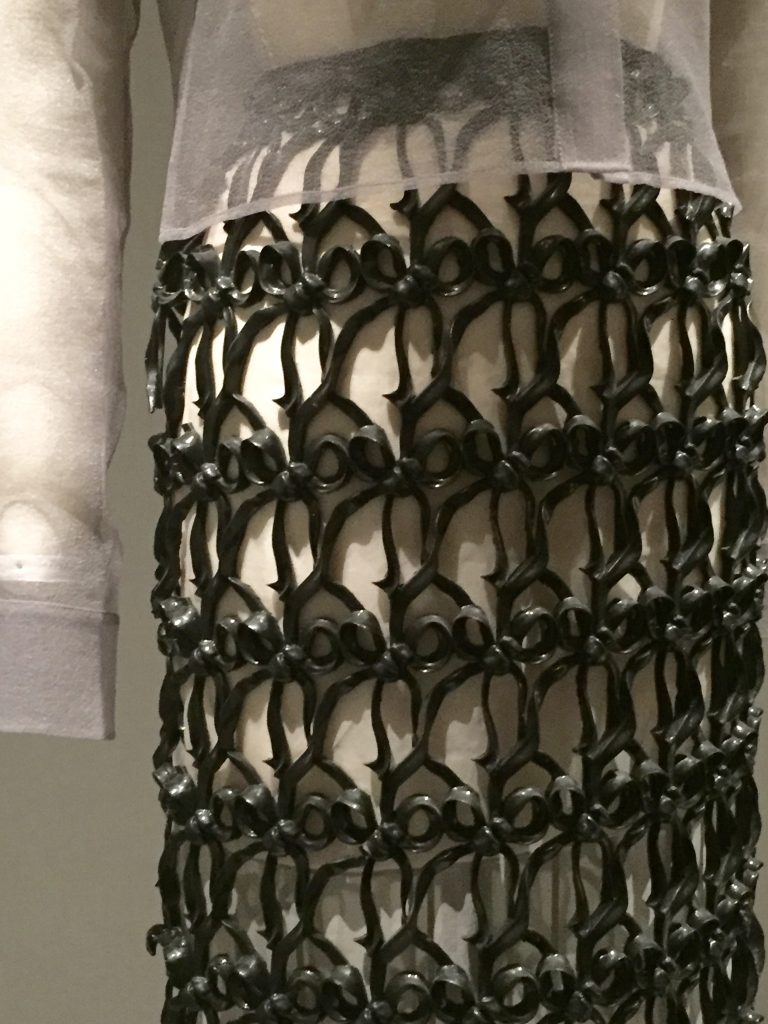 And here's the last photo I took of the lace garments – and my last photo of this post. I have more photos but I'll put those in a separate post. This Saint Laurent suit is from the spring/summer 1963 haute couture collection. It's machine-sewn white cotton organdy with overlay of machine embroidered cutwork hand-stitched with machine-embroidered guipure lace, hand finished. I love the 1960s collar and the delicate lace and cutwork. Be still my heart. It's gorgeous.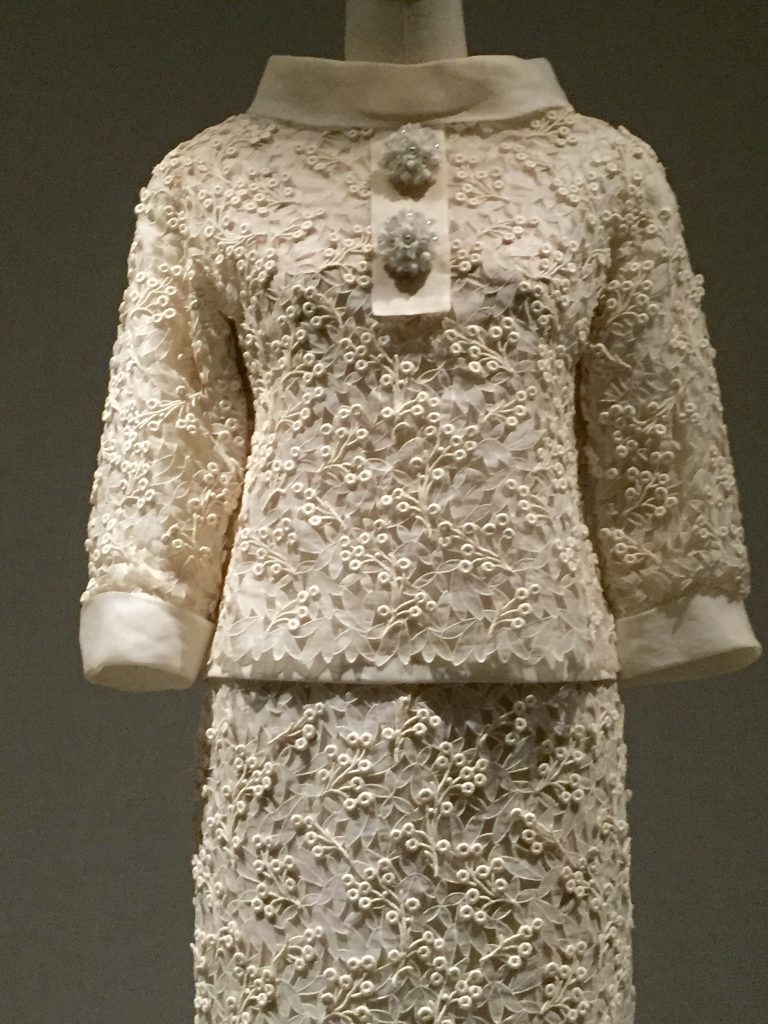 I hope you enjoyed the photos – sorry some are not as in-focus as I'd like but they do give you an idea of the scope of this exhibit. If you saw the exhibit, what were your favorite pieces?
Stay tuned for more Manus x Machina photos in an upcoming post. 🙂