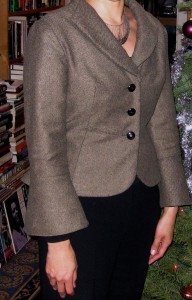 A few months after I started sewing again, I wanted to make a lined jacket, which I had never done before. I found a great Vogue pattern for a suit called "Divine Details" (V8543). The jacket has princess seams in the back.
Then I found a great fabric – a herringbone tweed remnant for less than $40 at a Britex Fabrics sale in San Francisco. The fourth floor of this store is where you'll find remnants organized by type – wools, silks, cottons, knits, and so on.
Though the remnants are discounted, many of them are still quite pricey, such as $75 or more for a piece of imported Italian silk. But a couple times a year, Britex has a remnant sale and you get an additional 30 percent or maybe even 50 percent off. A ton of people come to these one-day remnant sales so get there early. (Bay Area readers: Go to Britex's website to sign up for the store's newsletter and get notified of sales.)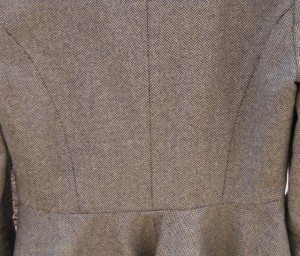 Vogue rated this pattern "average" for sewing difficulty which I thought I could handle. After all, I could sew a straight seam and follow directions, right? And didn't "average" mean "average sewing ability"?
Well, I just looked up how Vogue defines an "average" sewing rating on its website:
"These patterns are perfect if you have more time to sew, and more experience sewing. Look for challenging designer techniques, tailoring, unique construction details. Expect more fitting and inner construction. Find more variety in fabrics from the stretchiest knits to synthetic leathers and suedes."
Hmmm. I think if I had read that before I made it, I might have thought I couldn't make it. However, the instructions were clear and I didn't run into any problems except when I didn't pay attention to the interfacing part. This pattern used nylon fusible knit interfacing – which was new to me. It's been a while since I used any interfacing (for an explanation of interfacing, go here). Fusible knit interfacing is very lightweight.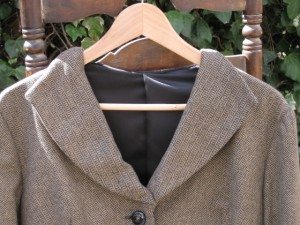 When I cut out the interfacing for the collar, I immediately steam ironed them to the tweed wool pieces. It was only after I ironed that I noticed that I was supposed to trim the corners in a couple areas to reduce bulk. Whoops. I didn't have any extra fabric so I had to deal with my mistake. With such lightweight interfacing you'd think it wouldn't make much of a difference but it did. The collar didn't quite lay down the way it should have. I ended up tacking down one collar point to (sort of) fix it.
I hate ironing but I ironed every time the directions said to iron. It makes a huge difference in the finished product. So don't skip it!
Here are a few more photos – just click on an image for a larger view.