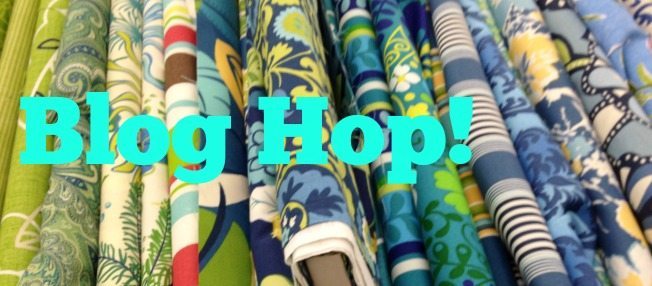 I was recently nominated by the lovely Olgalyn Jolly of O! Jolly! Crafting Fashion, to participate in a blog hop in which each participant answers four questions. If you haven't run across Olgalyn's blog or on social media, she's a knit textile designer and she writes about the wide range of fabrics she designs on her knitting machine as well as what she creates from her fabrics (sweaters, dresses, hats, cardigans, etc.) You can read Olgalyn's answers on her blog here.
And here are my answers…
1. Why do I write?
I initially began this blog to learn a content management system (in this case WordPress) and to write about something I enjoyed doing. I thought a sewing blog would be a nice contrast to the third-person articles I edit for the legal magazine I work for. And it's definitely a lot easier to write for my blog! I also thought it would be a good way to track my progress on various projects and see how my sewing skills have improved.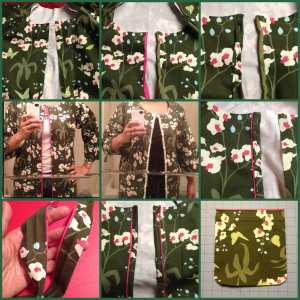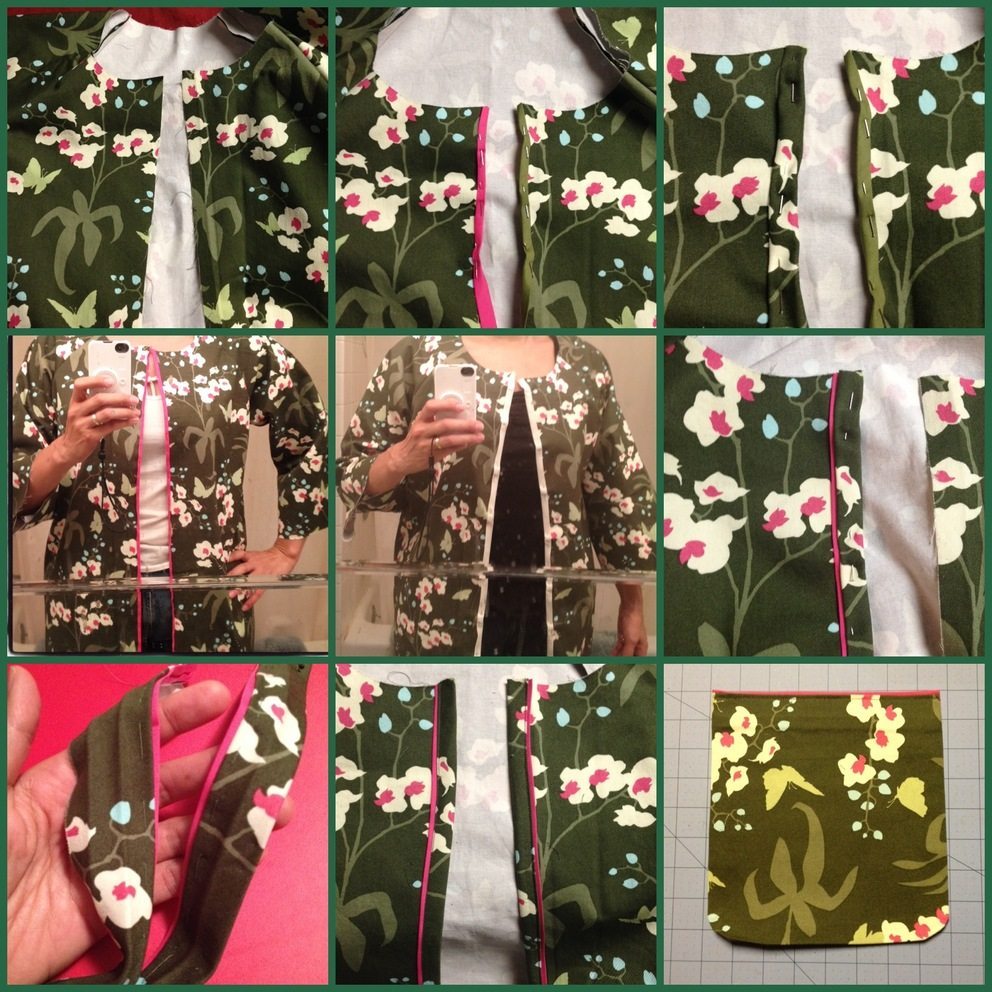 At first, I was more focused on developing a voice, learning WordPress, and getting better with taking photos using the timer on my camera. Over the past couple of years I've discovered that I like writing detailed posts on some of the clothes I've made, describing the steps I took to make something or the options I considered before I started sewing something. I like sharing information and hope that some of it is helpful to others.
Along the way, I've "met" via social media many other sewing bloggers who have offered me helpful advice when I've been stuck on a project. On Instagram, I've had help from @sewbrooke, @knitnbee, @kid_md, and many more. I really enjoy seeing what people are working on. My only regret these days is that I haven't had as much time to visit other people's blogs. So I'm mainly checking IG to see what folks are up to.
2. What am I working on?
At the moment, I've got a few things going on. I've just started making the 1952 Wrap Blouse by Decades of Style and I'm going to be sewing up a muslin for a vintage Vogue knit dress. You can read about them in this post: WIPs 1952 Wrap Blouse and Vintage Vogue Pattern.
I'm also working on a tutorial for a drawstring bag and I'm preparing to teach a class next Thursday, Nov. 13, 6:30 pm to 8:30 pm at Makeshift Society: Learn to Make a Fabric Drawstring Gift Bag!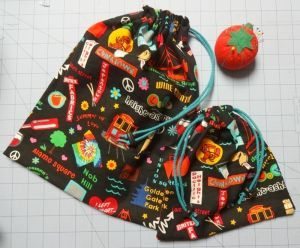 Oh, and this Saturday, I've coordinated a meetup to discuss slippery and fiddly fabrics at Britex Fabrics for the Bay Area Sewists meetup group. We'll be getting a personal tour of the store and we'll be meeting upstairs to discuss fabric. As the organizer, I arrange monthly meetups for the group. It's been great to meet more sewing bloggers in person at our events. If you're ever in the Bay Area, please let me know, and if there's space, you can be our guest. 🙂
3. How does my blog differ from others in its genre?
When it comes to sewing, I don't think my blog is unique from others in its genre but maybe the one area where it does differ is that you'll see my hats in various photos. I have a big collection and you'll see me wearing one in every photo of me on this blog. I wear hats everyday. I've also made a few hats on my sewing machine and I've taken a couple of millinery classes. Sometimes I write about hats on this blog. I went through a cap-making phase a while ago – drafting a six-section hat and making several versions before making one that looked good on my husband. 😉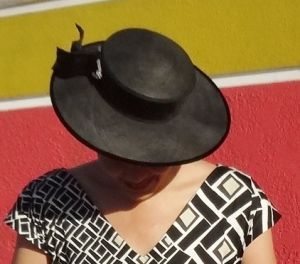 4. How does my writing process work?
I start with photos, which help me decide where to start. If I'm writing about a garment I've made, I may include several photos describing how or why I did something. The photos help me remember what I did. Though sometimes it takes me a looooong time to get to the writing!
Thanks for reading my answers!
Now I'm supposed to nominate two bloggers to answer these questions. I nominate Kirsty of Tea and Rainbows. I first met Kirsty via Twitter (@kirstyteacat) and then I met her in person when I became the next organizer for Bay Area Sewists. Kirsty helped me with the first meetup I organized – a pattern swap. She made labels for the various categories (dresses, skirts, pants, etc.). She also helped me check out and eliminate possible venues for the meetup. She was living in Berkeley at the time because her husband was in grad school but now she's in Auckland. I also nominate Loran of Loran's World. I first met Loran via social media and then in person at one of the Bay Area Sewists meetups I organized earlier this year. Loran makes many lovely clothes, often from vintage patterns or vintage fabric. She's worked as a costumer and has plenty of fitting experience. We've both made Decades of Style's 1940s Girl Friday Blouse. One of these days we'll get together and wear our versions on the same day. I hope you can each answer the four questions!
---
Off topic – If you have adventurous musical tastes or just have a love of great music, check out my husband's new blog Sound Projections. Actually, he hates the word "blog" so he calls it an online magazine. Here's what he says in the intro:
This online magazine features the very best in contemporary creative music in this creative timezone NOW (the one we're living in) as well as that of the historical past. The purpose is to openly explore, examine, investigate, reflect on, studiously critique, and take opulent pleasure in the sonic and aural dimensions of human experience known and identified to us as MUSIC. …
He'll be writing and editing about a wide range of musicians and singers, everyone from jazz (Miles Davis) and rock (Jimi Hendrix) to pop (Janelle Monae) and blues (Gary Clark). Check it out!