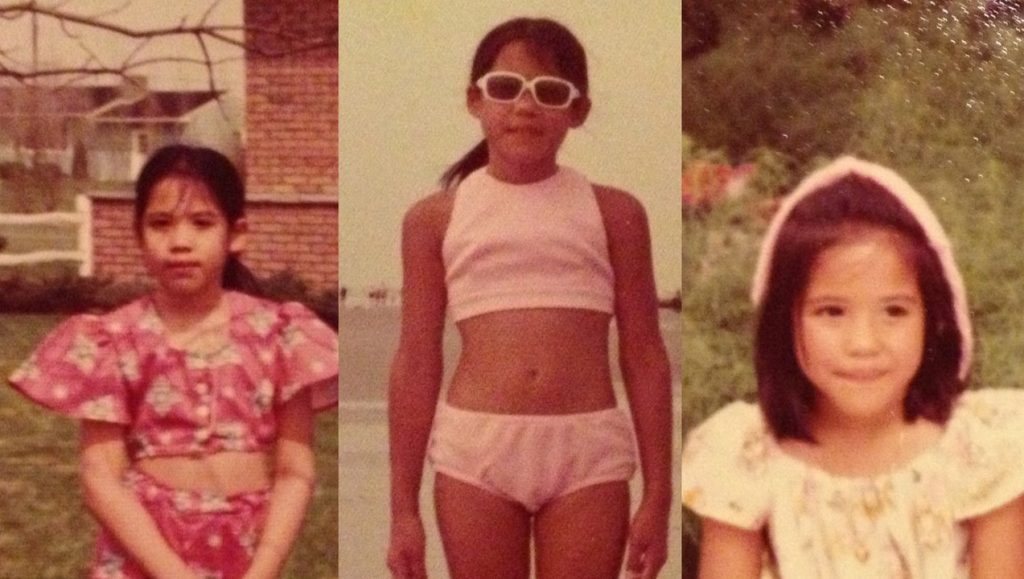 Over the past week, I've been visiting my parents, who now live in Delaware. (I was born and raised in upstate New York so I don't really have much history with this state.) During my trip, I've had a chance to see each of my three sisters (no boys!), which has been great. I haven't had a chance to do any sewing since I've been here. My mom has two sewing machines so I thought I might be able to sew during my visit. I did bring the skirt I started before I left. (I wrote one post about it here: Bemberg Lining for a Skirt.) But with various family members coming through at different times, I'd rather spend time with them. I did flip through many old family albums though – so instead of blogging about my skirt, I'll post about some of the clothes my mother made me!
This brief selection includes photos taken on family trips and at our old house in Horseheads, New York. I lived there with my family from kindergarten to fourth grade, then we moved to Elmira, New York, right next to Horseheads. I lived in Elmira from fifth grade through high school. My mom sewed nearly all our clothes when I was growing up. I wore stuff she made up until seventh grade when it became uncool and I just had to have jeans from a store.
There aren't too many photos of me by myself. My dad mostly took group shots of all four of us kids or us and my mom.
Not everyone was thrilled to be photographed in the photo below so I cropped out my sisters. We were at a flower garden somewhere. This is a dress my mom made with an elastic neckline and cap sleeves.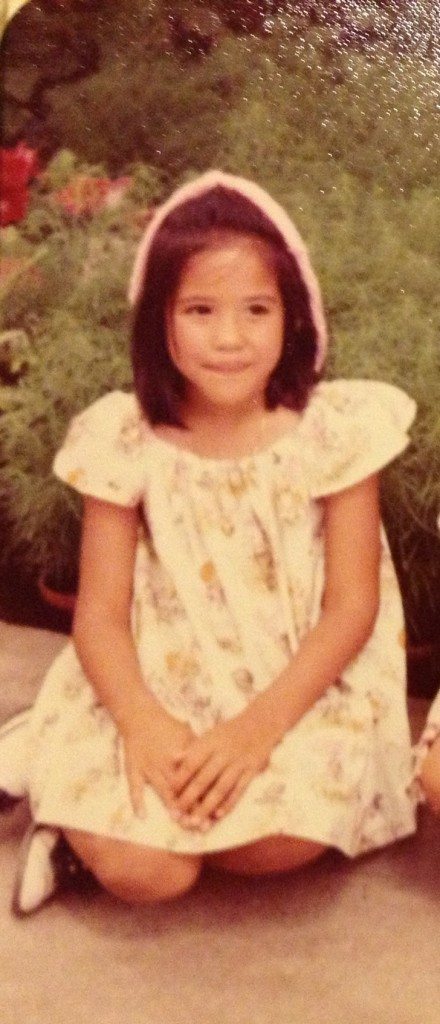 This photo was taken at our home in Horseheads. I'm in the middle, my older sister to the left, and sister number three on the other side. My youngest sister is off-screen. I'm guessing that we're smiling at her antics. See that door with the white metal frame in front of the wood one behind us? That was a dangerous door. One day playing hide and seek with the neighborhood kids, I ran out the front door to find a hiding place. My hand missed the metal bar in the middle and went right through the glass. My mom got a neighbor to watch my sisters and off we went to the emergency room. I sat in the backseat with a box of tissues holding a wad of them on my hand and telling my mom not to drive too fast because she didn't have her driver's license yet. I was seven years old and got seven stitches in my left hand – I still have a scar there – just below my middle finger.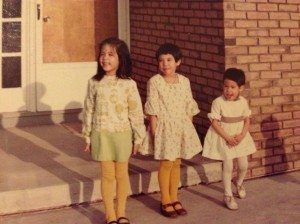 Here I am in a two-piece jumpsuit with puffy sleeves. I don't remember this outfit but it is cute. I don't think I'd wear a midriff-baring outfit today!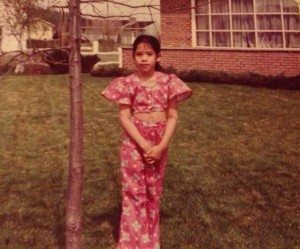 A few summers we went to New Jersey so I'm guessing this may be New Jersey. Here I am in a swimsuit mom made.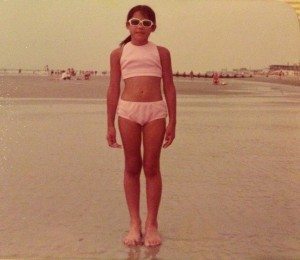 Christmas plaid! Clearly my mom made us a lot of dresses. I imagine with four girls those were the quickest things to make. I wore a lot more dresses back then. Now I mostly wear pants and skirts and I only wear dresses on occasion.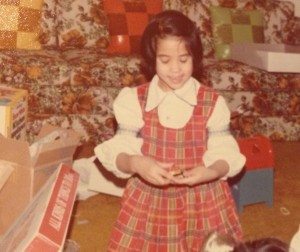 I'm guessing I was in fifth grade here – this photo of my Halloween princess outfit was taken at our home in Elmira. I remember the sewing pattern – it was likely Simplicity or Butterick. This was made with pink flannel (gotta stay warm when you trick or treat!), trimmed with gold rickrack, and tied at the waist with a gold ribbon.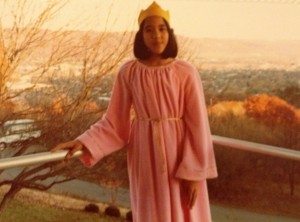 Can you guess which one is me? I'm wearing the blue culottes and knee socks. My youngest sister is on the left wearing the pink barrettes and top.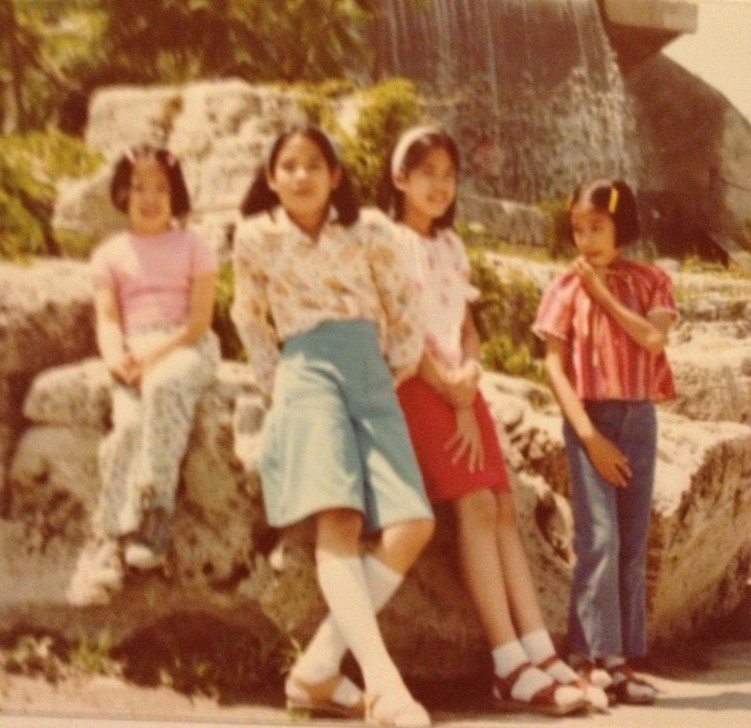 Did your mother sew? Did she make clothes for you when you were growing up? Did you have any favorite outfits? Do you sew for your kids? Feel free to share links to any photos or blog posts!