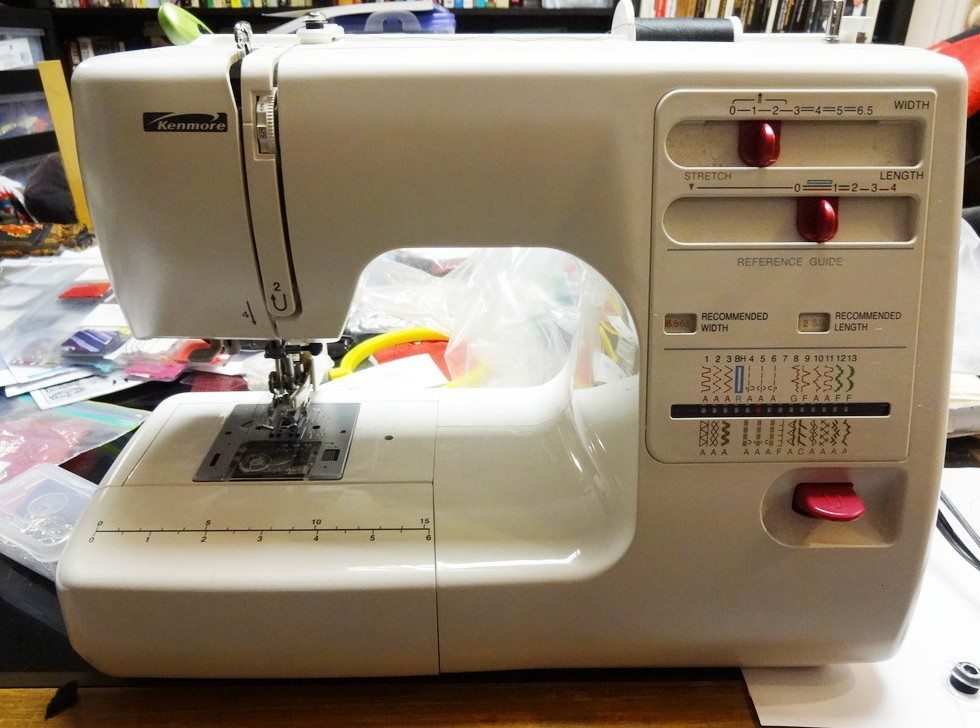 This Kenmore has been my trusty sewing machine since 2009. It's nothing fancy (no electronic programmable anything) but it's done a nice job on the things I've made. When I got it, I was just getting back into sewing after years of not sewing. This machine cost less than $200 on sale. I've been meaning to get a higher quality machine for a while. And now that the timing is off on this one (more on that below), it's finally time to get a new sewing machine. But what should I get?
I know that the biggest complaints some people have about today's machines are that most of the parts are plastic and new machines aren't as good as older models, which have mostly metal parts. So I'm wondering if there is such a thing as a quality new machine that's built to last.
What am I looking for in a machine? Well, I'm an intermediate sewer and I want something that can handle different fabric weights, make nice buttonholes, and sew an invisible zipper. I don't need any electronic embroidery functions. If I'm going to embroider, I prefer doing it by hand. And I don't need something that can do a million different stitches and tell me that I'm threading the machine incorrectly. I'm really just interested in sewing to make clothes and crafty things. I don't think I want to quilt either. I'm willing to spend up to $1,000.
Consumer Reports did a nice sewing machine buying guide last fall. If you click on page 4, you'll find a nice summary of the top brands, which I'll quote here:
Brother International is one of the leading manufacturers, with a market share of 29 percent of home sewing machines. The company offers basic to top-of-the line combination sewing and embroidery machines. Models are high tech with multiple functions and advanced technology, yet easy to use. Models are available through www.brother.com and a network of independent dealers and mass merchants.

Husqvarna Viking is one of the leading manufacturers of high-tech electronic and computerized sewing machines. The sewing machines are developed and manufactured in Sweden. The company recently launched Designer Diamond, which is the newest addition to their high-end full service computerized line of sewing and embroidery machines. The Designer Diamond and others are available at Husqvarna Viking full-service dealers.

Janome America is one of the top manufacturers of more-advanced and innovative sewing machines. Janome offers electronic and computerized models from entry level to the high end. Its most advanced computerized sewing and embroidery machine to date is the Memory Craft 11000, which has patented stepping-motor technology and computer software.

Kenmore (Sears) is a leading supplier of sewing machines. Kenmore offers a variety of mid- to low-end multifunction models that are available exclusively at Sears and Kmart.

Singer is the leading brand of sewing machines, with more than 43 percent of sales. Singer offers a variety of models with style and features for beginners to proficient sewers. Models are available at specialty stores, mass merchants including Target, Walmart, Kmart, and other national retailers.
However, you can't access actual reviews of machines unless you subscribe to the magazine. I really not interested in subscribing to Consumer Reports.
Pattern Review has sewing machine reviews as well as a page that lets you search the reviews by selecting the features you want in a machine. Then you can see all the reviews within your price range. Nice feature but it doesn't sort the search results by year so you don't know how old the reviews are unless you click on each one individually. Grrrr. Some reviews are several years old so it's likely those models are no longer being sold. Not very helpful.
Some folks really like Janome so I popped over to the Janome website and saw plenty of higher end machines as well as the "no-frills"  Memory Craft 6300 for quilting and sewing, which as 63 stitches. I found a Janome Memory Craft 6300P on Overstock.com on sale for $1,199 and free shipping. I have no idea what's the difference between the 6300 and the 6300P – maybe it's just age, the "P" is older and no longer being made? Overstock also has the Janome Sewist 500, 40 percent off at $299. I would say that this model is tempting because of the price and because it doesn't have a thousand stitches. It has 25. I doubt I'd even use half of them anyway. How many stitches do you really need?
What attracts me to Janome is the invisible zipper foot. It just looks so much easier to install an invisible zipper with that foot. I ordered online a so-called invisible zipper foot for my Kenmore but now I realize that it was the wrong type of foot. So I just gave up on getting a proper foot and used a regular zipper foot, which is a tricky bit of sewing. (BTW – I found a video on Janome's site on installing a concealed zipper.)
Well, that's about all the searching I'm going to do today. If you have any suggestions on what machines I should consider and where I should go to buy one (Joann's? Overstock.com? Walmart? Costco? local dealer?), please let me know. If you are using a machine you really like, let me know the brand and model.
Oh, and finally, back to my Kenmore machine – well, I bought a service agreement when I got the machine in 2009. It expired in 2012 and I didn't renew it (bad me!). Over the past year, I've been a careless sewer – yes, sewing over pins and breaking a needle or two. I could tell over the summer that things were getting slightly off when my buttonholes got really crappy. Then when I was sewing some double-faced fleece over the holidays I was sort of forcing it through the feed dog. So I switched to a walking foot, thinking that would help – uh, too late – timing was off. On the next stitch the needle hit the metal thing that the bobbin case sits in. And yes, I did check that the needle was all the way in and the bobbin case was properly seated.
I know fixing timing can be expensive so I called Sears to see if I could renew my protection agreement after it expired. I was told that I could get another two years for about $89. This means I can get it repaired and not have to pay anything more – the catch is that I have to wait 30 days before I can bring it in for service. Thirty days! (sigh)
So that's why I'm looking for a new machine. And then my Kenmore will be my backup machine – because we all need backup, right?