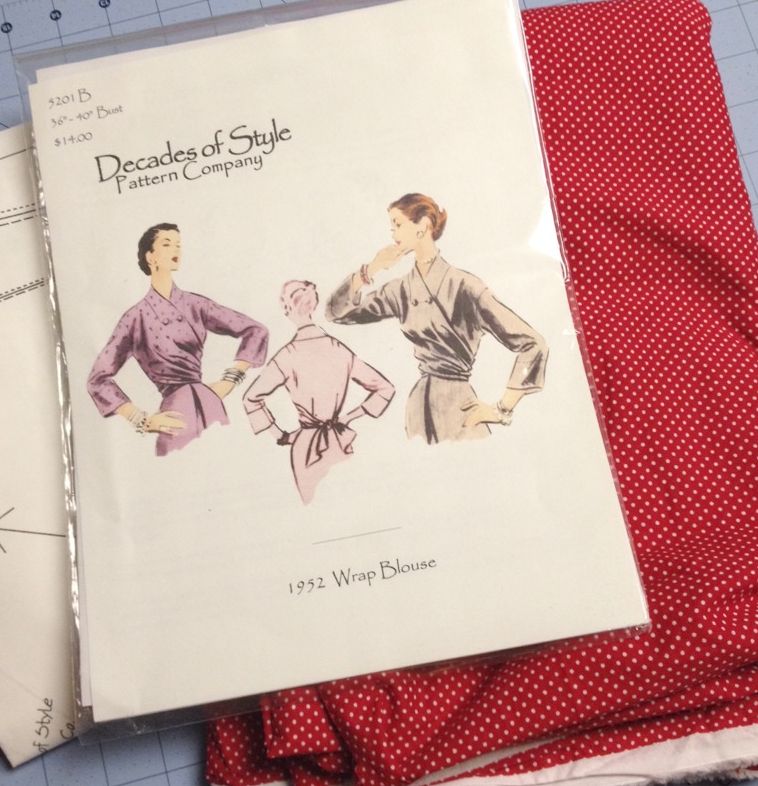 I'm happy to say that I have two WIPs (works in progress). I traced and cut two patterns last weekend: Decades of Style's 1952 Wrap Blouse and a dress from a vintage Vogue pattern. If you aren't t familiar with Decades of Style Pattern Company, this Berkeley-based business reproduces vintage patterns from the 1920s through the 1950s. I made another pattern by this company, the 1940s Girl Friday Blouse, a couple of years ago. (You can see my version on this post: My Fall for Cotton 1940s Girl Friday Blouse Is Finished!)
I'm going to use this red polka dot cotton voile to make the Wrap Blouse. I originally got about five yards of this fabric on sale at Fabric Outlet in San Francisco to make a dress but it's fall now and I'd rather make a top, which I can wear in the fall. Even thought it's fall, it's still pretty warm in the Bay Area so I think I can wear it for a while.
I'm making size B, which is for bust sizes 36, 38, and 40. Size B yardage is 2 3/4 yard (about 2.5 meters) for 44 wide, 2 yards (about 1.8 meters) for 60 wide. However, this fabric was 54″ wide, which meant that 2 yards would be too little. So I had to use about 2 3/4  yard to accommodate the large front pattern piece. As you can see from the photo below, my table wasn't wide enough. I had to work on the floor to cut this pattern piece.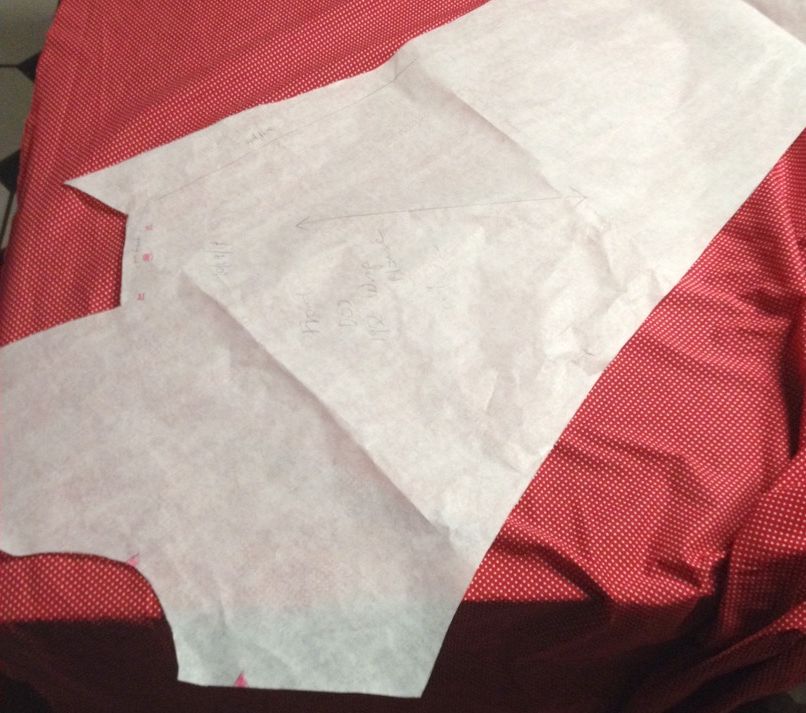 But I did finish cutting the pieces and searched my stash of Petersham ribbon and found that I had a yard of red – yay. The pattern says to use grosgrain or Petersham ribbon for an inside belt. The pattern includes a belting guide so you can mark the center front and underarm areas. you can see my chalk mark on the ribbon below. I'm going to take a risk and just make this blouse as is. I'm hoping I won't be swimming in the blouse because I'm not doing an SBA (small bust adjustment). I'm hoping that because it is a wrap blouse, it will be fine (fingers crossed!).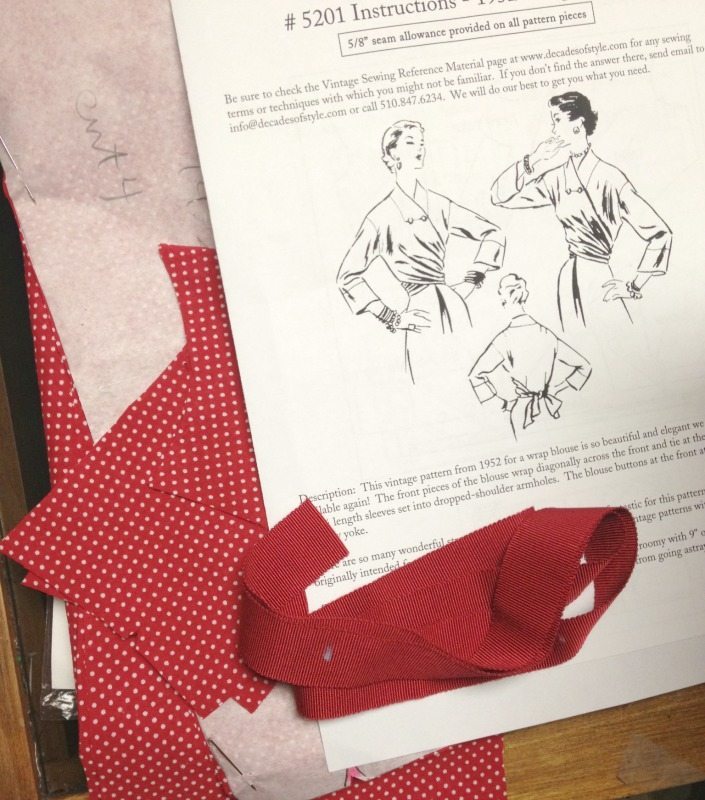 I can't remember where I got this vintage Vogue pattern. It doesn't have a copyright date but I think it has an early 1970s feel. What do you think?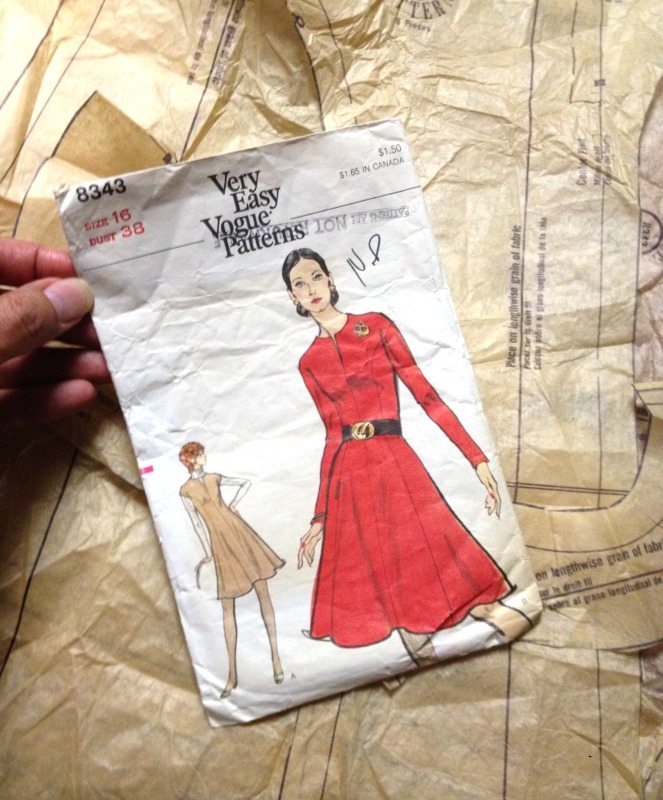 The pattern pieces were really wrinkled! The previous owner just crumpled them up and stuffed them in the envelope. :/
I had never seen a pattern that wrinkled before. (The horror!) I'm the kind of person who will spend 15 minutes refolding patterns exactly as the printer folded them. I had to iron each piece and then discovered that the back facing piece was missing. But it's just a small curving piece so I figured I could just draft one by tracing the top curve of the back pattern piece, which I did.
This dress has six sections – two front pieces, two side front pieces, two side back, and two center back.I think it would be fun to color block. I traced the woman in red on the pattern to see how that could look, which you can sort of see in the photo below.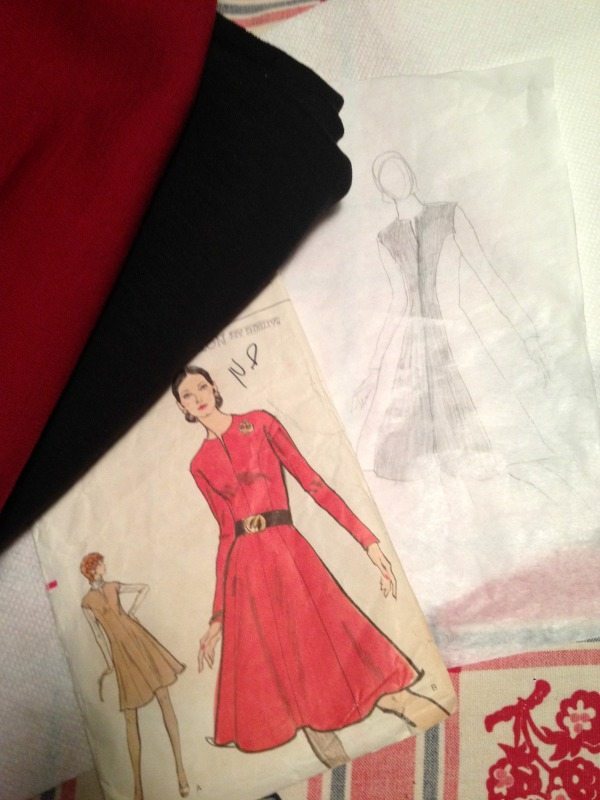 I spent a small fortune at Britex Fabrics on two pieces of wool jersey – one was this black remnant and the other was this beautiful deep red from the first floor where all the expensive silks and wools are. I got 1 1/4 yards (1.14 meters) of the red – just enough for the center front and back pieces. I have plenty of the black for the sides and sleeves – if I make the long-sleeve version.
I traced the pattern pieces and decided that I needed more room in the armhole. The sleeves are fitted so I decided to drop the armhole about an inch. You can see the penciled in line below.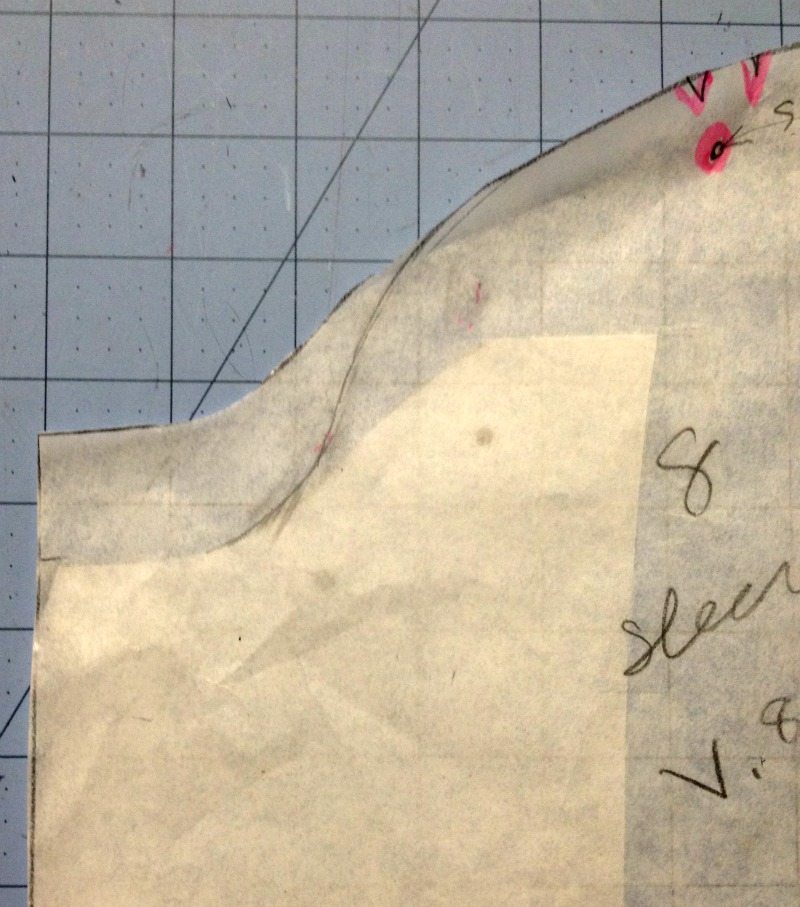 Oh, and before I forget – let me just mention that I broke out my new erasable highlighters for this pattern. Thanks to Brooke of Custom Style for her great tip, I now highlight all my pattern notches and markings so I don't forget to mark my fabric before I remove the pins. (Brooke is a costumer and expert seamstress. You can see her various project in progress on IG (@sewbrooke).)
I like to use the pink highlighter because I'm not fond of pink so I won't ignore the notches. 😉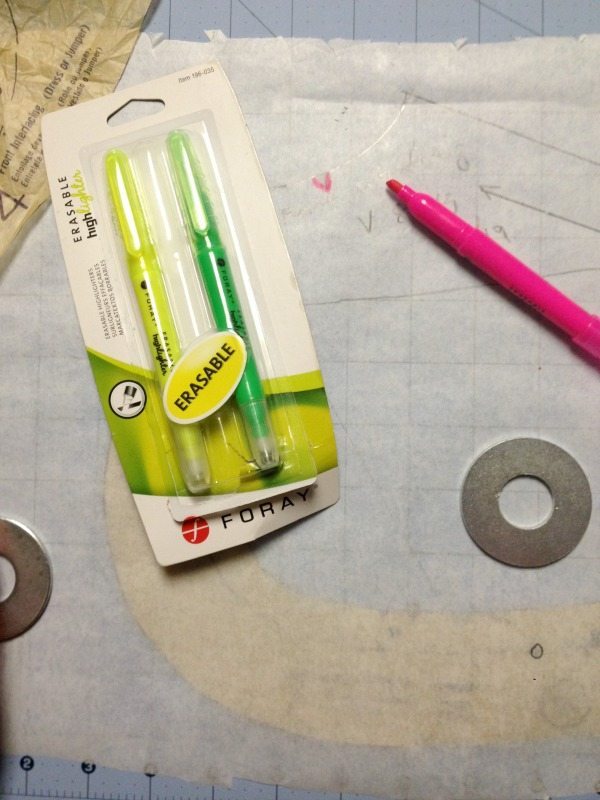 I like this particular highlighter by Foray because you erase the highlighter using the other side – a white tip, which is also a marker but when you run it over the highlighter markings, the highlighter disappears like magic.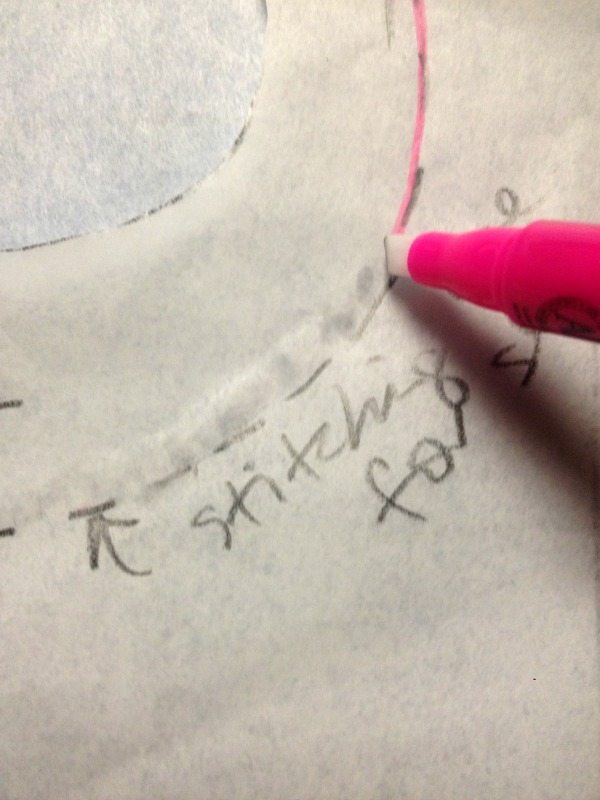 Pilot also makes an erasable highlight but it erases via the friction or heat generating from erasing. When you use the eraser end on it, your mark disappears but you can also tear your pattern paper from the rubbing motion. Because it is heat sensitive you could also use an iron to erase it but that could get annoying – turning on your iron to erase a highlighter mark.
You can get both of these highlighters at office supply stores.
I'm going to make a muslin of the dress from some brown jersey in my stash. It's not really the same weight or hand, plus it has a touch of lycra in it, but I think I can at least check and see how the arms fit. Then maybe I'll get some other knit fabric that is closer to the hand of my wool jersey and make another muslin. If you know a place where I can buy some really cheap wool jersey, please let me know.
Have you made anything from wool jersey? This will be my first time sewing wool jersey. I've only sewn cotton jersey, rayon knits, and fleece. If you have any tips, feel free to pass them on.