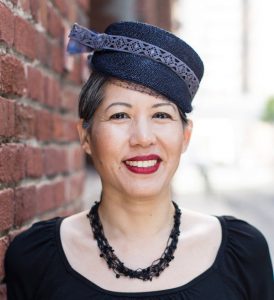 I love hats. I've been collecting them since high school and I buy a few more every year. Occasionally people ask me how many hats I have and I would say, more than 50. I'm not exactly sure how many I've got in my collection – some are in hat boxes, some are in the closet, and others are hanging on the bedroom wall. I've got hats with sequins and feathers and others trimmed with grosgrain ribbon and velvet – as well as those with just a button or buckle on the side.
I wear hats everyday – chapeaux made out of straw, paper fiber, corduroy, wool, fleece, or cotton fabric. I've even made a few as well. I should mention here that if you see a picture on this site with me wearing a hat, then my husband Kofi snapped that shot (thank you, Kofi!).  If you see my mannequin head (we call her Natasha), then I took the photo.
Part of the site will focus on hats – sewing patterns for them and photos of hats I've purchased (vintage and contemporary) as well as those I've made by hand or on my sewing machine.
One question I get asked a lot is where I get my hats. Well, some of my older hats like my Kangol wool berets (before they started putting the logo on the outside) were bought at a mall in upstate New York where I grew up. Some were presents from my sisters or friends. Others were from vintage shops, thrift stores, hat specialty stores, and crafters at street fairs. For info on where I've purchased hats, read "Shopping for Hats" (Natasha, my mannequin head is featured in the hats in that post. She has eyelashes!).
Hats are a great accessory to any wardrobe. So if you don't wear a hat, maybe you'll consider making or wearing one today!
– Chuleenan Svetvilas