Hi, thanks to everyone who voted for me! I'm so happy to announce that I actually won a sewing contest! Woot!
How did this happen? Well, Mari of Seamster Patterns organized the second Sewing Indie Month this year, hosting it on Sew Independent. Last year I had entered the Dressed to the Nines contest and was a finalist with my first Anna Dress. This year I entered the Everyday Casual Sewalong Contest (you can see all the entries there). I needed more casual clothes in my wardrobe. To enter, you just had to make something from one of the participating indie designers in the month of September and post your photo by Oct. 11. I had already purchased the A-Frame skirt pattern by Blueprints for Sewing back in June so I made that skirt (pictured below). You can see more photos of my skirt on this post and read about construction details here.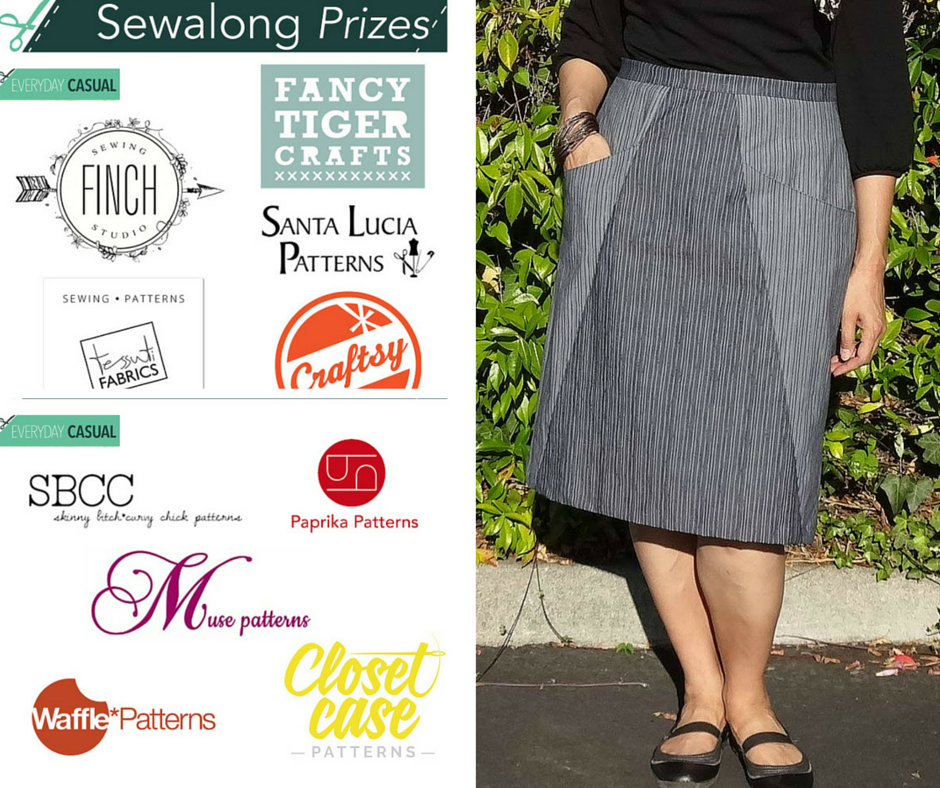 Mary of Idle Fancy hosted the Everyday Casual Sewalong Contest. Thanks for hosting, Mary! And thanks so much to Mari for organizing Sewing Indie Month! You put together some excellent prize packages!
Here's what I got:
AND…
WOW – A huge THANK YOU to all the participating designers and companies! I lost my job on September 30 when the publication I had worked for shut down. So finishing my skirt gave me something to do in the aftermath. And winning this contest is really wonderful. I look forward to sewing these great patterns. Thanks again to everyone who voted for my skirt! 🙂
Get my monthly newsletter!
The first Tuesday of every month, I send out C Sews updates, Bay Area Sewists news + design details. Join other sewists, crafters & creative people!