The exhibit "Fashion in Flight: A History of Airline Uniform Design," is  currently on display at the SFO Museum in the international terminal of San Francisco International Airport until Sunday, January 8 (go to Departures, Level 3, pre-security). If you live in the Bay Area, it's worth a trip to the airport to see this free show, which showcases uniforms from the 1930s to the present, including many created by fashion designers. My favorite uniforms were from the 1940s to the '60s.
If you can't get there, you can see some of the uniforms on the SFO Museum's website here and in this post. I saw this exhibit last month with a Bay Area Sewists member and took a ton of photos. But it was tough to photograph most of the uniforms because they were in display cases behind glass and there was a lot of glare to contend with, as you can see in the photo below.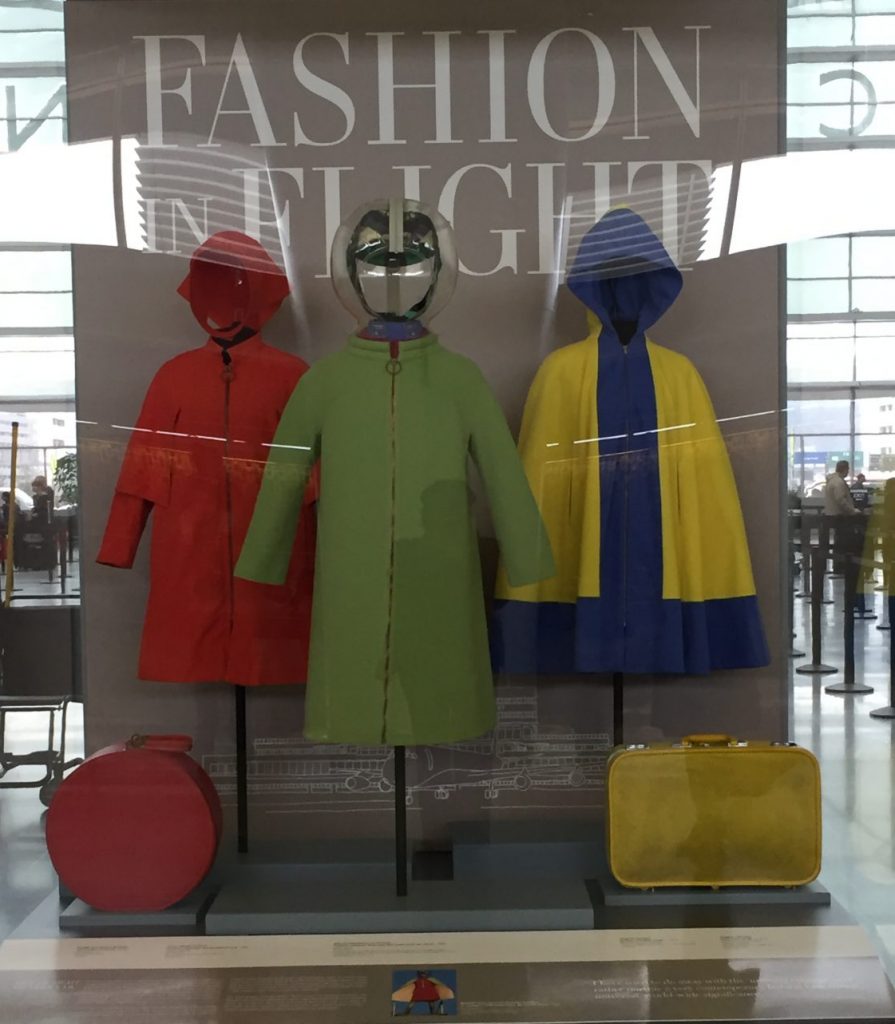 I was able to avoid some of the glare by putting my phone directly on the glass but that limited what got in the shot because I was so close to the mannequins. The ensembles are: TWA Poppy Orange duster raincoat and head covering; Braniff International Airways Gemini IV uniform, overcoat and bubble space helmet by Emilio Pucci; and Hughes Airwest hooded cloak in Sundance Yellow and Universe Blue.
Here's my photo of the green coat and space bubble hat, taken with my phone on the glass. According to the info in the case, Emilio Pucci designed this outfit for Braniff International Airways. The coat is in "reversible absinthe and apricot" and has a "welted ring collar to meet the bubble space helmet," which was made from Perspex thermoplastic acrylic. Apparently it was called a "rain dome" and its purpose was "to protect the wearer's hairdo."
However, the helmet was fragile and not exactly easy to store so it was only worn to greet passengers before they entered the plane and for publicity purposes, such as the first photo of this post. Look closely, the woman on the far right is wearing this coat and helmet.
I'm just going to include a few of my photos and the rest will be courtesy of the SFO Museum. You'll know which ones they are because they will include photo credit information in the caption from the museum, plus they will be so much better than my photos!
This is one of the uniforms from the 1930s, which also had a hat to go with it. Sorry you can't see all of the hat. It's similar to the Transcontinental & Western Air uniform of 1939 worn by the ladies in the photo just below this one. I didn't note the info on this uniform but it's likely another version of the 1939 uniform but with welt pockets.
Here's a lovely "air hostess" uniform from the 1940s and comes with a matching hat. Transcontinental & Western Air was the precursor to Trans World Airlines, better known as TWA. (As you can tell, this photo is from the SFO Museum.)
Here's a closer look at that jacket! Check out the princess seams, buttonholes and fish-eye waist darts.
The 1950s also had some very nice tailoring. Here's a 1955 TWA uniform designed by Oleg Cassini.
And no exhibit on flight attendant uniforms would be complete without one from Pam Am. There are lovely details on this uniform in "Fashion in Flight."
The '60s had some wildly varying looks. The early '60s still had some of the elegance of the 1950s. I like this Air France uniform by Christian Dior. I love cropped jackets and A-line skirts.
And then uniforms got a bit more colorful. Check out those boots!
As you may know, Jean Louis was a Hollywood costume designer. You'll see his name in many film credits, oftentimes the credit will be "Gowns by Jean Louis." He's famous for designing Rita Hayworth's black strapless gown in the 1946 film Gilda. And he was the costume designer for classic films such as From Here to Eternity (1953) and Bell, Book and Candle (1958).
I love this uniform. Doesn't she look happy to wear it?
This Air France uniform was designed by Balenciaga.
Uniforms seemed to get more casual in the '70s. This is a photo I took of the photo on display and of the uniform. The jackets are made from synthetic leather and came in pale pink, red and powder blue. I was surprised to see such casual jackets in "Fashion in Flight."
This is a fun micro mini-dress that was worn with red shorts.
The 1980s were not so interesting. Check out this uniform designed by Yves St. Laurent for Quantas, which seems rather dowdy and dated now.
I'll end with a look at some of the shoes on display. These were the official shoes worn with various uniforms.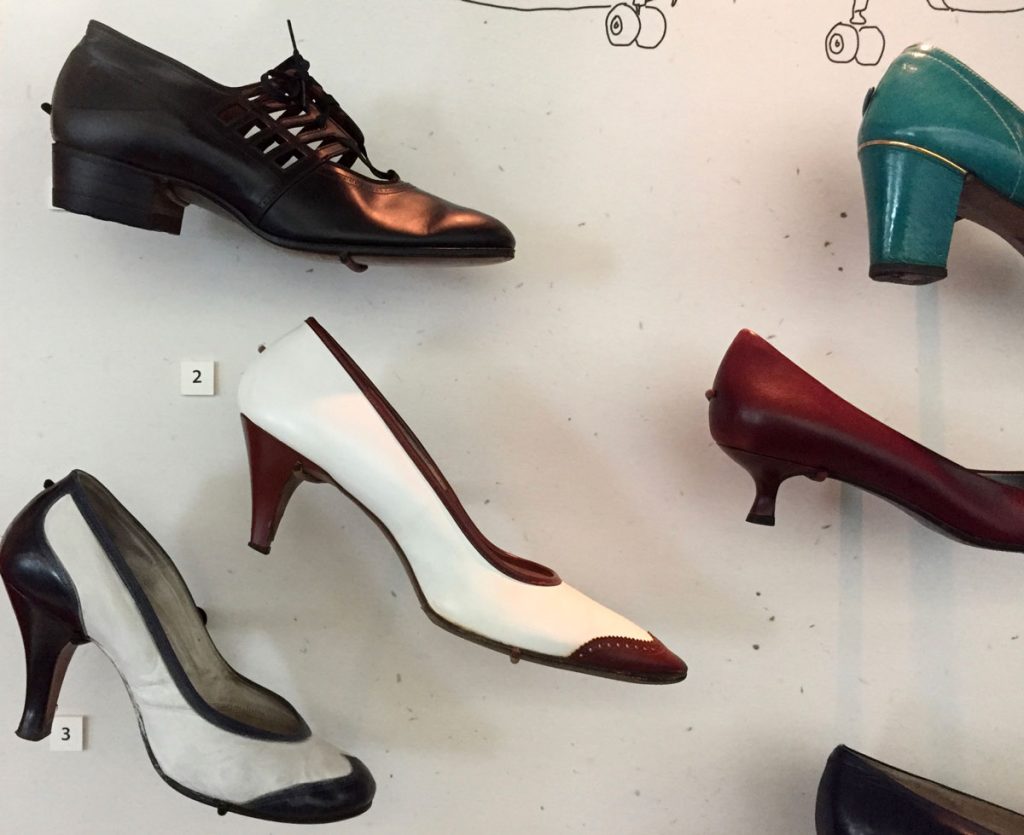 The black shoe is an oxford from the 1030s. The spectator pumps are from the 1950s. No. 2 is a TWA shoe from 1955 and No. 3 was worn by United Air Lines stewardesses in 1957. The kitten heel shoe is from the 1980s and was worn with the Eastern Air Lines uniform.
What's your favorite fashion decade?
If you do make it out to SFO to see "Fashion in Flight," I recommend looking at the work chronologically. The older uniforms are in several display cases in the international terminal. Then there's a museum room with more recent uniforms on display.
Get my monthly newsletter!
The first Tuesday of every month, I send out C Sews updates, Bay Area Sewists news + design details. Join other sewists, crafters & creative people!